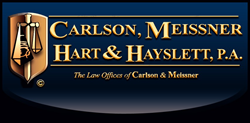 Tampa, FL (PRWEB) December 23, 2015
As holiday shopping levels increase to a frenzy, so does identity theft. Thieves search for opportunities to take advantage of distracted shoppers focused on the hectic holidays. "15 million people fall victim to identity theft in the U.S. each year. Many people admit to being worrisome of this issue, but struggle to properly protect their information," remarked attorney Larry Hart of premier Tampa Bay law firm Carlson, Meissner, Hart & Hayslett, P.A. By putting the following tips to use, your personal information stands a higher chance of staying safe from thieves this holiday season.
Don't Carry Your Social Security Card in Your Wallet - Only give your social security number when absolutely necessary.
Shoulder Surfers - Be weary of "shoulder surfers" in crowded checkouts. Shield the pin pad when entering a pin number or any other personal information.
Be Careful When Shopping on a Public Network - By doing your holiday online shopping at a local coffee shop, your banking information becomes easily available to hackers. Using a public Wi-Fi network on your phone, tablet, or computer can be dangerous as thieves have the ability to access any information passed through the network.
Look for the Lock - When making a purchase online, look for a lock symbol to the left of the website's URL. This confirms that you are purchasing on a secure site. If there isn't a lock, beware of hackers that create 'clone' websites for popular online shopping sites.
Check Your Credit Report and Bank Statements - Check your credit report at least once a year to be certain it does not include any accounts you have not opened. If you suspect your information has been compromised, check the report more often. Additionally, it is important to monitor bank statements closely. Often time thieves are caught stealing small amounts at a time, meaning you may notice a suspicious charge for only $2. During this season, check your online bank account often while on a secure network.
Request a Chip Card and Dip Instead - Using a credit card with a chip is safer for two reasons. The chip makes your physical credit card harder to counterfeit and rather than sending all of your information to a merchant when you buy something, the chip sends a unique code that an identity thief or hacker wouldn't be able to use even if they discovered it. The code "expires". When using with a credit card with an embedded computer chip, you will dip your card at checkout, rather than slide it.
# # #
About Carlson, Meissner, Hart & Hayslett P.A.: Since 1971 Floridians have relied on the experienced personal injury, criminal defense and DUI attorneys at Carlson, Meissner, Hart & Hayslett, P.A. to protect their rights and fight for them, in and out of court. The practicing attorneys take a team approach to provide outstanding representation in all legal matters. To schedule a free consultation, call (877) 728-9653, or via the company's website at CarlsonMeissner.com