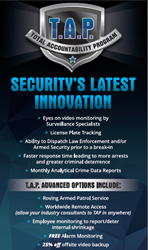 Denver, CO (PRWEB) December 23, 2015
Maintaining strict professional conduct, adherence to standard operating procedures and a secondary witness is paramount with contracted security as well as in house staff. Within a command center at Security Grade Protective Services headquarters, trained Surveillance Operators will watch security personnel and/or staff 24/7, but are also maintaining all digital footage for any specific length of time on each account should a business have regulations dictating offsite video storage. With access to clientele's current surveillance system, or one that Security Grade's industry leading technicians' installs, business owners can have peace of mind that there is another layer of protection keeping tabs on their property and even internal operations should a user so choose. Security Grade utilizes this program to ensure armed operators are not only providing the best protection possible with total accountability, but to modify their regimens and operating procedures to constantly improve security coverage of a business. This additional layer of protection provides digital documentation to an already highly customized security regimen and methodologies. This is also a more cost effective option comparable to security guards if onsite security is not an option for many of today's business establishments.
With T.A.P Advanced, Security Grade can access your entire video surveillance system both inside and outside of the structures of an operation, as well as add an armed patrolling guard dynamic to an account. Not all managers and owners can keep tabs on every single employee and ensure all operations are as efficient and compliant as possible. With T.A.P. Advanced, a business owner can log into a secure portal and look at past footage to assess operations. In addition to this, if their are compliance concerns (like with many cannabis/marijuana establishments), need consultation, or want to investigate internal shrinkage, etc., Security Grade Protective Services team of experts can professionally review operations from anywhere without having to hire a separate vendor. Security Grade's team of professionals will then draft a report sent directly to a business owner regarding any inefficiencies or non-compliance operations that may be taking place. This is like having another set of professional "big brother" eyes on an establishment but for a fraction of the cost of retaining a consultant.