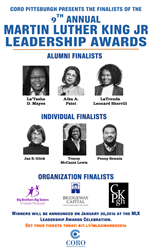 King's message is more relevant today than ever. Americans are still not living up to our espoused belief that all people are created equal.
Pittsburgh, PA (PRWEB) December 23, 2015
Announcing the Finalists for the 9th Annual Martin Luther King Jr. Leadership Awards
The Coro Center for Civic Leadership, Pittsburgh, announces the finalists for its 9th annual Martin Luther King Jr. Leadership Awards that will be held on January 30, 2016, from 6:30-9:00pm at the DoubleTree Hotel (Downtown Pittsburgh). Coro will hold this event in order to celebrate those in our community who are role models in values-based leadership. The Coro program is deeply oriented towards values, particularly the values of diversity and inclusion.
The Awards are named after Martin Luther King Jr. He is one of the most powerful role models for leaders who believe it is necessary to have a positive and inclusive vision in order to make meaningful progress on the major issues of our day.
Coro President and CEO Greg Crowley says "King inspired Americans of various racial, religious, geographic, political and social backgrounds to take a stand for the idea that every human being is worthy of dignity and respect. He shined a spotlight on the statement in our Declaration of Independence that all people are created equal, and he raised our collective awareness that as a nation we were not living up to this value. Through his leadership, King engaged thousands of people to help close the gap between our stated values and the reality of racial and economic injustice."
"King's message is more relevant today than ever. Americans are still not living up to our espoused belief that all people are created equal. The Martin Luther King Jr. Leadership Awards finalists are role models of values-based leadership. They set an example for those of us who are committed to a higher purpose but find ourselves distracted by political leaders and media outlets that boost ratings by spreading fear and mistrust. America needs leaders who, like Dr. King, inspire us with a shared vision and challenge us to seek common ground on behalf of the common good. We are blessed with such leaders in our own community."
Nine finalists have been selected:
Distinguished Individual Leadership Award Finalists:
Jan S. Glick - CEO of Big Brothers Big Sisters of Greater Pittsburgh
Tracey McCants Lewis - Assistant Professor at Duquesne University School of Law
Penny Semaia - Senior Associate Athletic Director at the University of Pittsburgh, Co-Founder of Life Skills 360
Distinguished Alumni Leadership Award Finalists:
La'Tasha D. Mayes - Founder and Executive Director of New Voices Pittsburgh, Coro Fellowship in Public Affairs Alumna
Alka A. Patel - Managing Director & Senior Counsel at BNY Mellon, Coro Women in Leadership Alumna
LaTrenda Leonard Sherrill - Deputy Chief, Operations and Administration at City of Pittsburgh, Office of the Mayor, Public Allies Pittsburgh Alumna
Organization Award Finalists:
Community Kitchen Pittsburgh
Big Brothers Big Sisters of Greater Pittsburgh
Bridgeway Capital
To learn more about the finalists go to http://bit.ly/2016mlkawardfinalists
The winner in each category will be announced at the the Martin Luther King Jr. Leadership Awards. The event will include food and drinks, silent auction, and live music from Center of Life Jazz, Jude Benedict and the Last Drop, Hard Money, and Jon Banuelos. All are welcome. Tickets can be purchased at http://www.bit.ly/mlkawards2016.
Contact: Greg Crowley
412-477-9918
gcrowley(at)coropittsburgh(dot)org
About Coro
Today's complex urban environments present constantly evolving challenges and opportunities, creating an increasing need for versatile leaders with the ability to forge connections and lead across the business, government, and nonprofit sectors. Coro Pittsburgh provides a distinctive opportunity for diverse, civically-minded people to develop the skills, knowledge, and networks that enable them to create unique solutions in partnership with others.
With communities as the proving ground, and the cohort as the learning model, Coro participants learn to affect change within systems by leveraging strengths of many different kinds of people, organizations and institutions.
Coro Pittsburgh's mission is to advance ethical and effective leaders who share a commitment to civic engagement. We are building a leadership pipeline to foster collaboration within and across Pittsburgh's business, nonprofit and government sectors.
Coro Pittsburgh was founded in 1999 to develop leaders who have a passion to revitalize communities. We are one of five independent Coro centers in the United States. The first center was founded in 1942 in San Francisco. Others opened in Los Angeles, St. Louis, New York and Pittsburgh, respectively. Coro centers form partnerships with philanthropic foundations, high schools, college campuses, governments, businesses, and civic networking associations in order to recruit all kinds of leaders who are passionate about revitalizing communities and ready to take on new leadership roles. Coro brings these leaders together into cohorts who learn to accomplish shared goals in a collaborative way and to sustain the leadership community after the Coro program.
Nearly 2000 individuals have participated in a Coro Pittsburgh leadership program, including 35% affiliated with nonprofits, 25% from business, 15% from government, 15 % in education, and 10% in philanthropy. Since 2006 Coro Pittsburgh has been the operating partner of Public Allies Pittsburgh, an AmeriCorps program that annually trains 800 nonprofit leaders nationwide through a 10-month full time nonprofit apprenticeship. Through our partnership with Public Allies, Coro provides $350,000 of Federal investment into nonprofits in Western Pennsylvania.
#