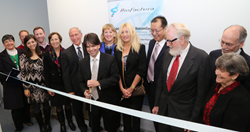 Frederick, MD (PRWEB) December 22, 2015
On Thursday, December 17, 2015, BioFactura, and Poochon Scientific, LLC had a Grand Opening and Ribbon Cutting Ceremony at their new manufacturing facility located at 8435 Progress Drive, Suite Y-Z, Frederick, Maryland. BioFactura President and CEO, Darryl Sampey, was joined by 70 Federal, State and Local Elected Officials, biotech leaders, and government researchers to celebrate this milestone. Frederick County Executive Jan Gardner presented BioFactura with an official Citation and joining in the Citation Presentations was Senator Barbara Mikulski's Representative Julianna Albowicz, Congressman Chris Van Hollen's Representative Melissa Joseph and Richard Griffin on behalf of the City of Frederick. Congressman Roscoe Bartlett (Ret), State Delegate Karen Young and Delegate David Vogt along with Congressman John Delaney's representative acknowledged this achievement for BioFactura and Poochon Scientific by addressing the attendees. Dr. Jeff Hausfeld, Chairman, ended the ribbon cutting ceremony sharing his vision for job growth that BioFactura will bring to Frederick at this new biopharma manufacturing facility.
Darryl Sampey led facility tours to showcase BioFactura's core competency in the development of stable manufacturing cell lines for production of therapeutic protein-based drugs with a focus on monoclonal antibodies. This new facility provides a new 5,500+ sq. ft. headquarters and R&D/manufacturing facility in the Riverside Research Park located in Frederick, MD. This expansion will bring significant additional capabilities to BioFactura in cell line and bioprocess development as well as cGMP Phase I manufacturing at the 250-Liter bioreactor scale with all single-use processes. With BioFactura's development and commercialization of its patented StableFast™ Biomanufacturing Platform, the Company is positioned well for bringing both biosimilar and novel antibody drugs to market with faster, lower cost and superior quality manufacturing methods.
"Standing at the crossroads of innovation and commercialization, BioFactura is well positioned to leverage the capabilities of this new lab facility to further establish and expand the regional BioTechnology center of excellence that the State of Maryland has nurtured for so many years." said Dr. Jeffrey Hausfeld, BioFactura's Chairman of the Board and Chief Medical Officer.
BioFactura and Poochon Scientific both graduated the Frederick Innovative Technology Center in October and project to bring new jobs to the region over the next few years.
Attending the ribbon cutting and pictured are: Julianna Albowicz for Senator Barbara Mikulski, Richard Griffin, Director, Frederick City Office of Economic Development, Melissa Joseph for Congressman Chris Van Hollen, State Delegate David Vogt, State Delegate Karen Young, Dr. Jeff Hausfeld, Chairman of the Board for BioFactura, Inc., Darryl Sampey, CEO & President of BioFactura, Inc., Frederick County Executive Jan Gardner, Cheryl Sampey, Dr. Jon Hao, CEO of Poochon Scientific, Congressman Roscoe Bartlett, (Ret), Patrick and Mary Frances Sampey, Parents of Darryl Sampey.