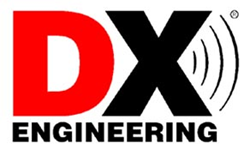 Tallmadge, OH (PRWEB) December 22, 2015
Amateur Radio operators in northeast Ohio can enjoy new 2 meter coverage. With its antenna secured to a professional communications tower located at DX Engineering headquarters, the N8DXE repeater promises to serve Hams in the Akron, Ohio and surrounding areas (146.985 MHz frequency).
N8DXE is an open repeater and no PL tone is required. Hams are free to use this repeater whenever they're in range,(about 30 miles centering around Tallmadge, Ohio.
"DX Engineering is all about serving the Ham community," reports Tim Duffy K3LR, DX Engineering's Chief Operating Officer. "Since every member of the DX Engineering staff is a licensed Ham too, installing a public repeater was a no-brainer. Its coverage really helps Ohio's repeater network."
N8DXE's frequency pair used to belong to the Goodyear Amateur Radio Club. The club graciously transitioned those frequencies to the DX Engineering Employees Radio Club. DX Engineering will continue the Goodyear club's mission of community service, and encourages local operators to use the repeater for club events, emergency communications drills, and exchanges with other operators.
At the heart of N8DXE is a commercial-grade Icom IC-FR-5000 repeater programmed for FM Amateur Radio use. Controlling the IC-FR-5000 is an Arcom 210. N8DXE uses an Andrew® DB224E four-dipole phased vertical antenna, delivering 6 dB gain. DX Engineering installed the antenna atop a 135 foot cell phone tower to ensure excellent coverage across northeast Ohio's hilly terrain.
Local and travelling Amateur Radio Operators may check in to N8DXE anytime, day or night. The repeater tower is clearly visible from I-76, near exit 29 in Tallmadge, Ohio.
DX Engineering
http://www.DXEngineering.com
1-800-777-0703