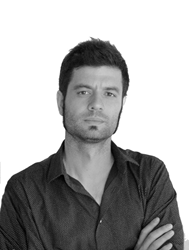 San Diego, CA (PRWEB) December 21, 2015
Ramiro Losada, an undergraduate architecture faculty member at NewSchool of Architecture & Design (NewSchool) is profiled in the December issue of Architectural Record for his firm, Losada García, which was named one of the top 10 emerging architecture firms worldwide in 2015.
According to Architectural Record, each year the publication highlights architects "doing some of the most innovative work in the field who will lead the profession in the future." In the profile of Losada, along with his business partner Alberto Garcia, the author writes that they "represent a new breed of Spanish architect" that is globe-trotting and media savvy. Prior to starting their firm in 2008 in Cáceres, Spain, the pair launched Studio Banana TV, a multimedia platform that produces interviews and documentaries about design, art, and culture on the web.
"This recognition, by one of the most respected industry publications in the world, is really important both for me and my partner Alberto Garcia," said Losada, who teaches third-year architecture studio at NewSchool. "Our San Diego office recently opened, so this selection reinforces the idea that our projects are understood in two different cultures, both European and American. We aim to promote thinking globally but acting locally, so with this selection we reaffirm this concept."
In his capacity at NewSchool, Ramiro, along with more than a dozen students and fellow instructor Victor Navarro, designed and constructed an installation for the STEAMConnect Education Conference held in San Diego spring 2015. Other upcoming projects of Losada García include the Peraleda House, Peraleda (Cáceres), Spain, 2014–16; Torres House, Navalmoral (Cáceres), Spain, 2015–16; and Interior Library, San Diego, 2016.
For more information on Losada Garcia Architects, as profiled in Architectural Record, visit http://www.architecturalrecord.com/articles/11360-losada-garca-architects-cceres-spainsan-diego.
About NewSchool of Architecture & Design:
Located in downtown San Diego, NewSchool prepares students for career success in design fields through an emphasis on interdisciplinary and global design skills, industry collaborations and real-world projects. Programs of study include architecture, construction management, product design, media design, game development, and interior architecture & design. The school's design environment provides inspiration for the school's students and faculty, recognized for their work regionally and internationally. NewSchool is accredited by the Western Association of Schools and Colleges (WASC) Senior College and University Commission. NewSchool's Bachelor of Architecture, Master of Architecture and Executive Master of Architecture programs are accredited by the National Architectural Accrediting Board (NAAB).
NewSchool is a member of the Laureate International Universities network – a global network of more than 80 campus-based and online universities in 28 countries. Through this network, students at NewSchool are prepared to work in a global and diverse work environment through the school's collaborations with sister institutions in the Laureate network, including award-winning schools such as Domus Academy in Milan, Italy and Media Design School in Auckland, New Zealand. For more information about Laureate International Universities, visit http://www.laureate.net.
###