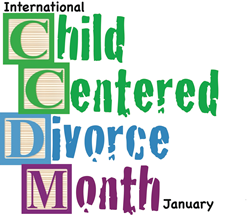 Regardless of your own emotional state, it is essential to put your children's needs first when making decisions related to divorce or separation!"
West Palm Beach, FL (PRWEB) January 05, 2016
International Child-Centered Divorce Month is being commemorated once again in January. The entire month is devoted to alerting parents about the effects of divorce on children – how to safeguard their wellbeing, co-parent more effectively and avoid serious mistakes during and long after a divorce.
More divorces are filed in January, following the holiday season, than in any other month. That's why Rosalind Sedacca, Divorce & Parenting Coach and founder of the Child-Centered Divorce Network selected January to recognize ICCD Month each year. The goal is to educate parents about how to prevent negative consequences for children during and after separation or divorce.
Divorce attorneys, mediators, therapists, financial planners, coaches, parenting experts and other professionals around the world participate by providing complimentary educational material for parents, including ebooks, coaching services, videos, audio programs and other valuable gifts. Parents who are contemplating divorce, divorcing or transitioning after divorce are invited to access this material at a special website available throughout January: http://www.divorcedparentsupport.com/ebook.
In addition, parents will also find listings of free workshops, webinars and other special events being held during January on the Events Calendar at the same website.
Iris Ed/Two Families Now, Famylia.com and Divorce Magazine are supporting ICCD Month activities by providing teleseminars, videos and other educational resources.
"We have been supporting this initiative for four years now because it is aligned with Divorce Magazine's mission to have divorce be peaceful and transformative," says Martha Chan, Co-owner of Divorce Magazine . "When children are involved, divorce can get even more complicated. ICCD Month reminds and helps parents to bring the focus back on the children."
"Famylia is extremely excited to participate as a sponsor this year for International Child-Centered Divorce Month," says Lacy Gow, Divorce Mediator and Co-founder of Famylia, an online communication tool for divorced parents. " We look forward to collaborating with great minds across the globe on such an important topic and are very thankful for all of Rosalind's hard work on this impressive event."
"IRIS Educational Media believes that parents can learn to work past their differences and raise healthy, happy children through all their transitions. We are grateful for Rosalind's work in promoting this issue," says Kali Orkin, Marketing Manager.
"Divorce professionals around the world will be participating to remind parents about their responsibility to their children's well-being before, during and after divorce," says Sedacca. "Our purpose is education and mistake prevention. We want to encourage respectful co-parenting, teach effective communication skills, and guide parents away from litigation and toward cooperative, mediated solutions whenever possible," she adds.
A divorced and later remarried parent, Sedacca is the author of the internationally-acclaimed ebook, How Do I Tell the Kids about the Divorce? A Create-a-Storybook Guide to Preparing Your Children -- with Love!
"Parental decisions about divorce can affect and scar children – for years – and often for a lifetime." Sedacca adds. "We want to tell divorcing parents: Regardless of your own emotional state, it is essential to put your children's needs first when making decisions related to divorce or separation!"
Throughout the year Sedacca provides articles, advice, coaching services and many valuable resources for parents transitioning through and beyond divorce at: http://www.childcentereddivorce.com.
During January, for International Child-Centered Divorce Month, parents and divorce professionals can access to all the complimentary resources and special events taking place by visiting: http://www.divorcedparentsupport.com/ebook.