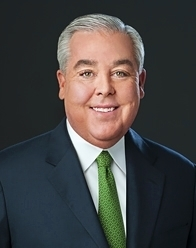 New York, NY (PRWEB) December 22, 2015
Morgan & Morgan is proud to announce the release of attorney John Morgan's new book, You Can't Teach Vision. In his second book, Morgan expands on the practices that led to his success running multiple 21st century enterprises.
You Can't Teach Vision follows Morgan's life as an entrepreneur, highlighting the successes and obstacles he faced while building his businesses. The book is intended for practicing attorneys and business professionals who wish to turn their professional passions into successful companies.
You Can't Teach Vision serves as a metaphysical how-to guide for creating a business out of a law firm, and creating an enterprise out of a business. Morgan often draws from his own personal experiences – founding a successful law firm, chain of banks, advertising agency, and entertainment attraction, to name a few – and guides the reader from the inception of an idea to the execution of it. As Morgan explains, expanding a business comes with issues such as modifying enterprise goals, managing competition, and taking risks when necessary.
His first book, You Can't Teach Hungry, appeared in the top 200 Law books on Amazon and sold thousands of copies around the U.S. The book was hailed for its advice on the nuances of creating a successful law firm. It remains a good resource for attorneys and law students.
Having founded Morgan & Morgan over 25 years ago, Morgan has extensive personal and professional knowledge of the power and pitfalls of the legal industry. In the book, Morgan explicates living by his motto "for the people" and chronicles his experiences serving clients across the United States. He has won many awards, including the prestigious Martindale-Hubbell's AV rating. The AV rating is only given to a small number of lawyers in the United States for their ethical standard and professional ability. Writing serves as another way for Morgan to help his fellow attorneys.
You Can't Teach Vision is published by Trial Guides and is available on their website.
About Morgan & Morgan
Morgan & Morgan is one of the largest exclusively plaintiffs' law firms in the US, with 25 offices throughout Florida, Georgia, Mississippi, Tennessee, Kentucky, Pennsylvania and New York. The firm handles cases nationally involving discrimination, personal injury, medical malpractice, consumer class action, and securities fraud—as well as complex litigation against drug and medical device manufacturers.
For further press inquiries contact:
Dov Slansky – Attorney
dov(at)forthepeople.com
Contact:
Morgan & Morgan
20 North Orange Avenue
Suite 1600
Orlando, FL 32801
(407) 420-1414
Facebook: https://www.facebook.com/MMForthePeople/
Yelp: http://www.yelp.com/biz/morgan-and-morgan-orlando-2