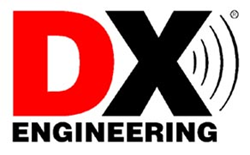 Tallmadge, OH (PRWEB) December 23, 2015
From January 11 through January 26, 2016 a team of amateur radio operators will transmit from the tiny specs of sand in the South Pacific that make up the Palmyra Atoll. DX Engineering supplied the team with RG-8X Coaxial Cable Assemblies, 200 feet of bulk RG-8X and a mix of high-performanceAmphenol PL-259 connectors.
Palmyra Atoll is a United States territory regulated by the Fish and Wildlife Service, which strictly limits visitors due to the islets' protected natural status. That means another DXpedition to this location may never happen, making Palmyra a highly prized contact for any Ham enthusiast pursuing the DX Century Club award. At the time of this release, Palmyra Atoll is number nine on the list of the DXCC's top ten most wanted entities.
With less than 2.5 miles of actual land above sea level, the DXpedition team is facing several significant operating challenges—the largest being simply connecting all of the radios, antennas and related equipment in the islets' wet, salt-dense environment.
DX Engineering has created a K5P DXPedition Combo so Amateur operators can use the same high quality components for their own setups:
DXE-3X10--DX Engineering Skyhawk™ Tri-Band Yagi Antenna
DXE-8XDX100--DX Engineering RG-8X 100' Cable Assembly
DXE-8XDX003--DX Engineering RG-8X 3' Cable Assembly
DXE-8X--DX Engineering RG-8X, 200' Bulk Spool
DXE-UT-CRMP2-8X--DX Engineering Ultra-Grip 2 Crimp Connector Hand Tool Kit
AML-83-1J --Amphenol Double UHF Female Connector
AMP-182115-10--Amphenol Connex UHF Male Crimp Connector
COM-BAL-11150DT-- COMTEK 1:1 Current Balun
Learn more about 2016 K5P DXpedition at its official website.
DX Engineering
http://www.DXEngineering.com
1-800-777-0703