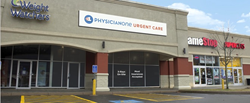 Waterbury, CT (PRWEB) December 23, 2015
PhysicianOne Urgent care is pleased to announce the opening of their 12th location, conveniently located in Waterbury, CT.
With the goal of making truly remarkable care easily accessible to all, the new PhysicanOne Urgent Care office offers a variety of services including:

Comprehensive Medical Care for Non-Life Threatening Injuries and Illnesses
X-Ray
Stitches
Lab Services
Located at 920 Wolcott Street, in the Naugatuck Valley Shopping Center near Walmart, Panera Bread, and Stop & Shop, the location will serve the community as a walk-in care facility that is open 365 days a year with extended hours for added convenience.
The new location in Waterbury is part of an aggressive expansion project that has led to 11 previous clinics across Connecticut. The company also has plans of opening additional clinics in NY and MA in early 2016. The expansion is part of an effort to bring high quality convenient care to the communities where it is needed most.
"The CDC estimates that over a quarter of all ER visits are for non-emergency conditions, and the average patient could save as much as $600 for the same level of treatment at an urgent care facility," said PhysicianOne Urgent Care CEO Lynne Rosen. "By pairing an accomplished team of providers with convenient locations, PhysicianOne Urgent Care provides prompt, expert care and unmatched customer service to the communities we call home."
About PhysicianOne Urgent Care
Established in 2008, PhysicianOne Urgent Care was the first in the market to be accredited and certified by the Urgent Care Association of America. PhysicianOne Urgent Care takes great pride in helping make families live a bit easier. PhysicianOne Urgent Care's high quality medical care is a cost effective alternative to the Emergency Room as well as a convenient alternative to primary care physicians during off or peak hours. PhysicianOne Urgent Care provides walk-in treatment for a wide array of illnesses and injuries. On-site services include x-ray, lab services, and a medication dispensary.
All locations are open 365 days a year. Experienced providers are on-site at all times. Most insurances and Medicaid accepted. For more information, please visit http://www.PhysicianOneUrgentCare.com.