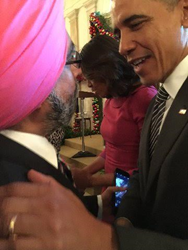 Washington, DC (PRWEB) December 21, 2015
Dr. Rajwant Singh, Chairman of the Sikh Council on Religion and Education, met President Barack Obama at the White House yesterday and pressed Obama to allow Sikhs in US Armed Forces without any restrictions. US President promised to look into the matter and agreed to follow up.
Dr. Singh and his wife Balvinder Kaur were invited to the White House Holiday reception hosted by the Obamas.
Dr. Rajwant Singh said, "President Obama, you have to allow Sikhs to serve in the Army without any restriction. They are only able to serve if Pentagon gives them an exception. This needs to go. Please do not leave office without taking away this restriction against Sikhs.
President Obama responded, "Sikhs are great warriors. I will look into it and will follow up."
Dr. Singh added, "Now Canada has turbaned Sikh as the National Defence Minister." To which Obama said, "I know, I know."
Dr. Singh thanked Obama for his service to the nation. "I want to thank you for your leadership and what you have done for this country."
Dr. Singh also met with Tina Tchen, chief of Staff for the First Lady, Michelle Obama. In addition, Dr. Singh met with Melissa Rogers, head of the White House Faith based Office of Neighborhood Partnerships, which works with faith communities on social issues. She also promised to follow up with President Obama.