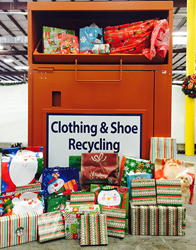 Spring, TX (PRWEB) December 21, 2015
It seems a Good Samaritan in Houston has embraced the Decide2Donate holiday spirit. While servicing American Textile Recycling Service (ATRS) donation bins early on Wednesday morning, a uniformed employee driver came across an unexpected surprise. Amongst all the normal donations of clothes, shoes and other textiles in the bin were 28 carefully wrapped gifts, addressed alternately to "boy" or "girl". Each present was signed by none other than Ol' Saint Nick himself!
The wrapped gifts were found by driver Luis Macias at the ATRS Clothing & Shoe Recycler located at Firestone Complete Auto Care on Champion Forest Drive in Spring, TX. Luis has been an ATRS driver for fifteen years, but not once has he come across such a joyous sight.
"It brightened my day to see that one of my neighbors was this inspired by the season of giving," said Luis. "So many of us are preoccupied this time of year and forget the true spirit of the holidays. This is the kind of story I look forward to sharing with my family and friends. Thank you to the anonymous Santa who made this donation - you are much appreciated."
Gently used clothing, shoes, toys and household textiles dropped off into ATRS Clothing & Shoe Recyclers throughout Greater Houston are collected and delivered to the company's 80,000 square foot sorting facility on West Little York Road. Every pound collected raises monthly funding for local nonprofit partner Houston Area Community Services (HACS). And these wrapped gifts are no exception. HACS is in desperate need of this funding all year round, but especially during the holiday season. The clothing donation partnership helps the volunteer staff at HACS serve Northwest Houston's needy community with food, clothing, school supplies, baby care items, medical care and much more.
Each year ATRS donates clothes, toys, electronics and stuffed animals to hand out as gifts at the annual HACS Holiday Party. This year, donations of these items have been so low the organization is struggling to provide for all the kids expected to attend the event.
To continue this inspiring spirit of giving, ATRS will be gifting all wrapped present donations received this month in its 5,200 nationwide recyclers to its network of 20 deserving charities in Houston and across the country.
ATRS encourages Greater Houston residents to drop off gently used, out of season, unwanted clothing, shoes or toys into easy, convenient neighborhood recyclers located throughout 28 metropolitan service areas. Community members can post a photo of their donation on social media with the hashtag #Decide2Donate.These generous donations, both during the holiday season and year round, help support local charities and create thousands of jobs while keeping wearable and usable textiles out of local landfills. It's a win, win, win! Call the 24-Hr Hotline at 866-900-9308 or visit http://www.atrscorp.com to find your nearest donation bin.
About American Textile Recycling Service
American Textile Recycling Service (ATRS) is the nation's fastest growing textile recycler and an official recycling partner of Rock 'n' Roll Marathon. Its socially responsible business model provides free textile recycling solutions for the public, job stimulation worldwide and much-needed funding for worthy local charities. Easy, convenient ATRS Recyclers are available throughout Colorado, Texas, Florida, Michigan, Tennessee, Atlanta, Oklahoma, Arizona, Indiana and Southern California. ATRS is committed to keeping textile waste from local landfills and promoting a greener tomorrow. For press inquires contact pr (at) atrsonline (dot)com.