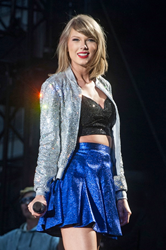 Taylor Swift had an amazing year including her 1989 World Tour with 85 performances.
NEW YORK, NY (PRWEB) December 22, 2015
NYBlondes.com (http://nyblondes.com) has named musician Taylor Swift the Hottest Blonde in NY for 2015.
Taylor is one of the top singers in the entertainment industry and she had an incredible year. She was named New York City Global Tourism Ambassador for 2015 by the city of New York's marketing and tourism department.
She completed her 1989 World Tour with 85 performances in cities across the United States and around the world including Europe, Australia, China and Japan with reported gross of $250 million in total revenues.
The leggy superstar also cleaned up at several music award shows. She won eight trophies at the Billboard Music Awards including top album and top artist. At the IHeartRadio Music Awards, Taylor won three awards including Artist of the Year and Song of the Year for Shake It Off.
You can read more about Taylor Swift's year and see photos of her at http://nyblondes.com/2015/12/15/taylor-swift-is-the-hottest-blonde-of-2015/
The announcement of Taylor Swift being the hottest blonde in NY coincides with the release of the Top 60 NY Blondes for 2015. The list includes Taylor Swift and well-known celebrities, broadcasters and models in NY.
Some of the names on the list are: Candice Swanepoel, Claire Danes, Olivia Jordan, Kelly Ripa, Megyn Kelly, Blake Lively, Karlie Kloss, Amy Schumer, Christie Brinkley, Nicky Hilton, Gigi Hadid, Ivanka Trump and Kate Upton. To see the complete list of Top 60 NY Blondes for 2015, go to http://www.nyblondes.com/2015top60.html
ABOUT NYBLONDES.COM
NYBlondes.com features photos of beautiful blonde women and celebrities who live and work in NY. To see more visit http://nyblondes.com or follow on Twitter at @nyblondes