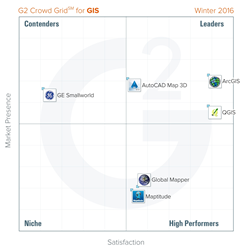 CHICAGO, IL (PRWEB) December 22, 2015
G2 Crowd, the world's leading business software review platform, today released the Winter 2016 GIS Software GridSM report to help businesses make the best technology decision. ArcGIS, QGIS and AutoCAD Map 3D were named Leaders in the report, receiving strong customer satisfaction scores with a large market presence. Additionally, Global Mapper and Maptitude were named High Performers, receiving strong customer satisfaction marks with a smaller market presence. ArcGIS and QGIS earned the highest overall Satisfaction scores. ArcGIS also earned the highest overall Market Presence score.
The GridSM leverages customer satisfaction data reported by authenticated users along with vendor market presence determined from social and public data. Based on a combination of these scores, each software solution is categorized as Leader, High Performer, Contender, or Niche.
Key Findings:
A geographic information system (GIS) manages real-world spatial data. GIS products collect geographic data in the form of survey data, images, digital scans, LiDAR, GPS, and unmanned aerial vehicle (UAV) data, and stores and manages that data in spatial databases that reveal insights through query and visualization. One of the most frequently mentioned qualities of the GIS products on the Winter 2016 GIS GridSM was how quickly or slowly they performed. Users desired faster and more reliable products in the category, overall.
The ability to customize maps through color coding and layering was mentioned as a sought-after feature for GIS software. Additionally, reviewers responded favorably to products that offer compatibility with a number of file types.
Reviewers of all six products on the Winter 2016 GIS GridSM commented on the ease or difficulty of use of their GIS product. This proved to be an important and polarizing feature of the category. While some products received positive comments regarding their intuitiveness, on average ease of use was the lowest rated satisfaction feature in the category at 74 percent.
About the GIS GridSM report:
● The report is based on more than 140 reviews written by business professionals.
● Of the roughly six products listed in G2 Crowd's GIS category, the ranked products each received 10 or more reviews to qualify for inclusion on the GridSM.
_______________
About G2 Crowd, Inc.
G2 Crowd, the world's leading business software review platform, leverages its 44,000-plus user reviews to drive better purchasing decisions. Technology buyers, investors, and analysts use the site to compare and select the best software based on peer reviews and synthesized social data. Co-founded by the founder and former executives from SaaS leader BigMachines and backed by roughly $12 million in capital, G2 Crowd aims to bring authenticity and transparency to business technology research. For more information, go to G2Crowd.com.
Follow us on Twitter or connect with us on Facebook or LinkedIn.
PR Contact:
Shasta Smith
G2 Crowd
shasta(dot)smith(at)blancandotus(dot)com
(415) 856-5123