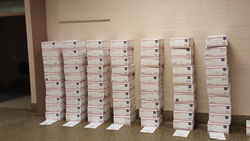 East Brunswick, NJ (PRWEB) December 23, 2015
The GI Go Fund and St. Mary's Coptic Orthodox Church of East Brunswick, NJ looked to spread love and support to American soldiers stationed in Afghanistan this Holiday season by sending over 80 care packages overseas. The packages included food, clothing, cleaning supplies, toiletries, and other essentials that the soldiers can use to get them through their deployment.
All care packages where delivered to soldiers stationed to Afghanistan from the 10th Mountain Division in Ft. Drum, the same division that Lt. Seth Dvorin, the inspiration behind the founding of The GI Go Fund, belonged to. Members of the 10th Mountain Division had raised nearly $5,000 during a golf outing in May prior to their deployment, as well as contributing over $3,500 at the GI Go Fund Veterans Day Gala in honor of Seth and the organization.
The packages were assembled by the St. Mary's Coptic Orthodox Church Father Bishoy Youth Group, which in addition to these care packages has made hundreds packages for homeless veterans here at home for the past few years. All of the care packages were assembled in the Church's facilities in Corpus Christie, NJ, with supplies generously provided by the Mercer County Association of Realtors.
"I want to thank the members of the St. Mary's Coptic Orthodox Church for once again showing their love and appreciation for our current and former service members," said Jack Fanous, Executive Director of The GI Go Fund. "The amount of packages they have made, both now and over the past few years, has just been astonishing. And the fact that we can provide these supplies to the same soldiers who just a few months before hosted a golf outing to support us and honor the memory of Seth is truly special."
The GI Go Fund is an organization on the cutting edge of offering support to veterans, providing veterans with innovative ways of finding employment, securing their educational and health benefits, as well as providing aid and assistance to low income and homeless veterans. Since their founding, the organization has helped tens of thousands of veterans improve their lives and give them the capacity to provide and care for their loved ones. For more information, visit http://www.gigofund.org.