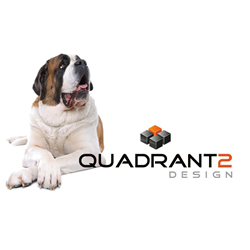 Poole, Dorset (PRWEB UK) 22 December 2015
It was always going to be a tough year. 2014 saw exhibition contractors Quadrant2Design increase their sales by 58%, a fantastic result in an economically-stilted climate.
In recent years, the recession has shown the first thing to suffer when business are hit financially, is their marketing and exhibiting budgets. It's an unfortunate case, but one that has been all too apparent over the past few years.
However, despite such problems with the UK economy, Quadrant2Design still managed to achieve their outstanding result, and better yet, have managed to beat it again this year.
2015 sees Quadrant2Design close on yet another 10% up on last year. A fantastic result that has allowed the company to grow, expanding both their staff force and properties.
This year has seen the company's exclusive design, the Prestige Event System, at exhibitions around the world, including Germany, Dubai, and the USA. And already the company are looking forward to yet another successful year in 2016, with exhibitions in Germany, France, and New York already planned.
For more information about Quadrant2Design, or for a complimentary design consultation, contact designteam@quadrant2design.com or call 01202 723 500.
About Quadrant2Design
Quadrant2Design is the UK's only supplier of the Prestige Exhibition System. Portable, Modular and easy to self-build, the Prestige Exhibition System requires no tools or special skills. Catering for all sizes of exhibition stands, the Prestige Exhibition System, provides seamless effect, high quality graphics that have a custom feel, whilst being reusable and cost effective. With an array of possibilities, including lit showcases, mounted LCD TV's and high level branding, Quadrant2Design can create the perfect exhibition stand for any budget.