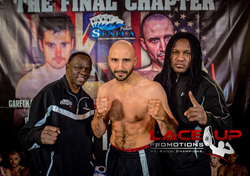 There was no scenario that I walked through in my mind that had this outcome.
Lockport, NY (PRWEB) December 23, 2015
Western New York's Amer Abdallah (16-0), No. 2 ranked kickboxer in the world and World Kickboxing Association Intercontinental Champion, will next fight on May 14, 2016 for the newly-vacated WKA Title. A venue has not been named as of yet.
Last month, Abdallah was scheduled to make history. For the first time in Western New York history, a native was to fight for a world title in his hometown. It was a lifetime dream, a journey consisting of an unblemished record and the hardest training camp of his professional career. Contracts between Abdallah and the WKA World Cruiserweight Champion Gareth Richards of Wales, UK were signed months before the scheduled bout. The Team Abdallah training camp lasted for just less than three months. And in one email, just 72 hours before the top two kickboxers in the world were about to meet, Gareth Richards informed Lace Up Promotions that "due to unforeseen reasons" he was not able to board the plane.
Abdallah explained that upon receiving the notification, he felt as if he was living a nightmare.
"It was such a shock and so unforeseen, that I actually thought I was dreaming. I physically tried pinching myself and waking myself out of my sleep," Abdallah said. "There was no scenario that I walked through in my mind that had this outcome."
For hours, Abdallah attempted to reach out to Richards directly. Finally at 4 a.m. EST, Richards answered his phone and began to explain that he had personal issues arise and additionally that he was denied an ESTA Visa prior to take off, preventing him from leaving the country.
"That's when we went to work," Abdallah said. "For the next 16 hours, we pounded the phones calling immigration offices stateside and in the UK. We worked around the clock to make this happen."
In unprecedented time, the visa was granted for Richards to leave the United Kingdom.
"I personally called him and said, 'Gareth get on the next plane.' I had my team cancel and rebook his flight three times to ensure it met with his schedule."
Upon the final booking of the flight schedule, all parties confirmed.
"We figured he'd miss the weigh-ins and would be able to make it later that night," Abdallah said.
Again, like a reoccurring nightmare, Richards left Abdallah a phone message late Friday night, stating he and his team would not make the flight or be attending the fight.
"It wasn't just months of preparation, but a lifetime dream that slipped away just like that," Abdallah added. "My team was furious. My family that flew in from all over the world, friends that came in from across the country, fans and supporters that attended were all there to witness me doing what I said I'd do my whole life, be a world champion."
For more information and to follow Lace Up Promotions, follow them on Facebook at Lace Up Promotions or on their website at http://www.LaceUpPromotions.com.