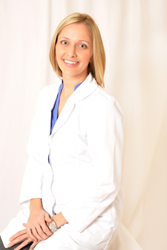 Jacksonville, FL (PRWEB) December 22, 2015
Dr. Kathryn E. Ryan, a prosthodontist with Parkway Prosthodontics, announces that she is now accepting new patients at her practice who require sedation dentistry in Jacksonville, FL. Dr. Ryan understands that dental fear is a legitimate concern, which often prevents patients from seeking the necessary care required to maintain optimal oral health. It is her hope that with the assistance of sedation, she will be able to provide treatment to many patients who would otherwise compromise the health of their teeth, due to extensive anxiety and fear.
Dental fear or anxiety affects upwards of 35 million people in the U.S. each year. Some patients may experience small amounts of fear during procedures or exams, but may be able to overcome such anxiety through the means of mental strength alone. However, for others afflicted by the condition, overcoming the fear may be seemingly cumbersome, facilitating reasoning behind avoiding treatment. They may be anxious about the condition of their teeth and embarrassed for the lack of prompt treatment. Many patients fear pain, gag reflexes, or nausea and others may have a fear of needles or the drill, which often creates difficulties for receiving treatment.
Dr. Ryan offers two different forms of sedation dentistry for her Jacksonville, FL patients, nitrous oxide and oral sedation. Both have been proven effective, depending on the situation. Nitrous Oxide, also referred to as laughing gas, has been utilized for many decades to ease dental fear. This sedative is an odorless gas that patients inhale through a nose mask. After inhaling the gas, patients often feel calm and can relax enough to receive proper care while also responding to verbal and physical stimulation. Oral sedation is also used for patients who may have dental anxiety or fear. Each patient under oral sedation will take a pill before arriving at the office. Depending on the dose of oral sedation, some patients may fall asleep but most can be reawaken with physical stimulation. Oral sedation is easy to take, does not involve needles and allows patients to feel comfortable for their dental treatment.
Patients with dental fear who would like to learn more about sedation dentistry in Jacksonville, FL can contact Dr. Ryan's office or visit her website.
About the Doctor
Parkway Prosthodontics is a prosthodontics practice located in Jacksonville, FL. Dr. Kathryn E. Ryan specializes in prosthodontics, esthetic and implant dentistry. She holds a Certificate of Specialty in Prosthodontics and a Master of Science Degree from Marquette University School of Dentistry, and is a Fellowship trained in implant surgery from the University of Florida, College of Dentistry. Dr. Ryan is a member of the American Dental Association, International Team for Implantology, Northeast District Dental Association, among others, and participates in the Jacksonville Dental Society Study Club, Beaches Study Club and Jacksonville Women's Dental Society Study Club, to name a few. Dr. Ryan and her team are committed to providing patients with quality care using state- of-the art techniques and equipment. To learn more about Parkway Prosthodontics and the services they offer please visit their website at http://www.parkwaypros.com or call (904) 201-1010 to schedule an appointment.