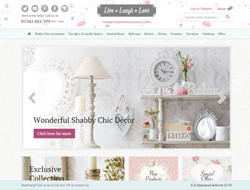 Live Laugh Love has completely redesigned their newest website with the idea of being user friendly, practical and responsive.
(PRWEB UK) 17 February 2016
Online Shabby Chic and Vintage Inspired store Live Laugh Love launches new website. Live Laugh Love was founded in 2007 and is a Shabby Chic and Vintage inspired online store who offer an extensive collection of unique home, and giftware at affordable prices.
Their inspirations have helped them re-create all things vintage and they have been influenced by many styles including, French provincial, British retro, shabby chic and country living. They love pretty faded fabrics, original 1930's chintz china, decorative Victorian glass, rustic nautical accessories and French vintage décor, that when displayed in the right way, regain their original beauty.
Live Laugh Love has recently been undergoing the development of an entirely new website, supported by an upgraded platform. Their goals have been to provide a whole new experience. Making the website user friendly and easy to navigate have been a high priority throughout the entire build, and it shows in the final design.
The new website at Live Laugh Love is a vastly more user friendly experience than its former counterpart. With a cleaner and more simplistic look, users will now be able to navigate the website with more ease and efficiency, finding an increased range of products with a more detailed and accurate searching system.
Live Laugh Love has completely redesigned their newest website with the idea of being user friendly, practical and responsive. New custom features make Live Laugh Love's new website smooth and streamlined, with every page being collaborated in a fashion that speaks volumes about the company itself. Using new and unique ideas has also helped bring a much more responsive and accurate platform without compromise.
Along with the more apparent visual improvements there are some new features and inspiring ideas available to consumers. The addition of Shabby Chic Ideas, a page of the website dedicated to providing people with tips and ideas, inspiring users to decorate their homes in an absolutely fabulous manner.
Mobile users can now saunter through Live Laugh Love's expansive collection with more ease and enjoyment than ever before, with a whole design being specifically made for mobile's and tablets. This is a brilliant addition to an otherwise flawless website, and really aids the shopping experience. Being able to browse with such ease and simplicity makes for a satisfying shop, that is an absolute pleasure to use.