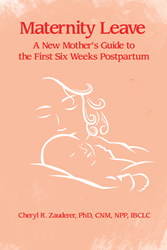 A well-rounded guide for women that addresses the issues all new mothers face.
Amarillo, Texas (PRWEB) December 29, 2015
Praeclarus Press is pleased to release its first book dedicated to the complete and well-rounded care a new mother needs. The first six weeks postpartum are a crucial time for the new mother and her baby. The puerperium, or postpartum period, is considered to be the fourth stage of labor and begins immediately after delivery and lasts until the new mother is completely recovered, typically about six weeks. It is during this time that the foundation for parenting for mom, baby, and the family is established. The postpartum period is the time for the new mother to adapt, not only to her role as a mother and caregiver, but also to the changes in her body and her psychological state. This book provides vital information for new mothers, their partners and families about what to expect in the first six weeks postpartum.
Maternity Leave: A New Mother's Guide to the First Six Weeks Postpartum contains essential information for the new mother. It is a comprehensive book on the normal postpartum period. This book contains valuable information for the new mother about taking good care of herself and her newborn baby; and addresses issues that may arise affecting both mother and baby. Topics covered include: post baby body, post baby brain, post baby cesarean, post baby breastfeeding and breast care, post baby bottle-feeding and breast care, post baby diet (weight, exercise, digestion, hair and skin), plus many more.
Cheryl Zauderer, PhD, CNM, NPP, IBCLC is a certified nurse midwife, a lactation consultant, and a psychologist. She has a private practice where she provides therapy and medication management to women suffering from postpartum and perinatal mood disorders (PPMD) and other reproductive issues. In addition to her clinical practice, Cheryl teaches nursing at the baccalaureate level as an assistant professor at the New York Institute of Technology in Old Westbury, N.Y.
Praeclarus Press is a small press that specializes in women's health founded by health psychologist Kathleen Kendall-Tackett, PhD, IBCLC, FAPA. It features books, webinars, and products that support women's health throughout their lifespan. Based in Amarillo, Texas, the mission of Praeclarus Press is to produce materials that change women's lives.