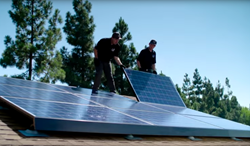 Clean, residential solar energy has always been expensive and complex, but now it can be less expensive than conventional utility power over the long term.
College Station, Texas (PRWEB) December 23, 2015
ISP Supplies, a leading distributor of wireless solutions for the Internet service industry, has expanded its service offerings into the residential solar energy industry, partnering with Ubiquiti Energy as their newest authorized distributor.  
Ubiquiti's sunMAX hardware and software brings a grid-tied, microinverter, solar power solution to the residential market with features and a price point never before seen in this industry.  "ISP Supplies has sold other solar solutions in the past as remote equipment power systems with some success, but none were designed from the ground up for the residential solar market.  The high cost of entry coupled with complexity and lack of support has kept most consumers out of solar power.  Ubiquiti has turned the industry upside down with a high output, disruptively priced system that the average consumer can easily afford and operate.",  said Steve Discher, CEO of ISP Supplies. Tony Rassavong, Business Channel Manager at Ubiquiti said "Ubiquiti and ISP Supplies have a long-standing relationship in the wireless networking world, as a reseller and certified Ubiquiti trainer, so the selection of ISP as a new sunMAX distributor seemed like a perfect fit."  
ISP Supplies will distribute the sunMAX product throughout the United States from its warehouse in College Station, Texas and will work directly with dealers and value-added resellers to design, permit, and install the sunMAX solution.  ISP will also install sunMAX systems locally in central Texas through its solar service division, Quick Green Power.
About ISP Supplies 
ISP Supplies is a leading provider of top quality wired and wireless networking equipment and power systems. Centrally located in College Station, Texas, the company's experienced team of network engineers help customers to build and operate networks, residential power systems and supporting infrastructure.  Since inception, ISP Supplies has differentiated itself by supporting the products it sells through pre-sales engineering, customer training, and ongoing support after the sale. (http://www.ispsupplies.com)
About Ubiquiti Energy
Ubiquiti Energy, producer of the sunMAX Residential Solar Solution provides a complete product solution including hardware and software. The sunMAX hardware offers advantages such as simplified installations, optimal performance using microinverters, railless mounting, and integrated equipment kits. The sunMAX software features design, permitting & sales tools, as well as system monitoring. To accelerate entry to the solar industry, Ubiquiti is offering a free online training course. For more info, visit training.ubnt.com. (http://www.ubnt.com/sunmax)