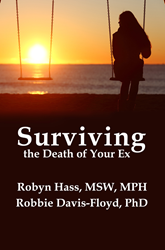 This book is long overdue for families in need of support when grieving the loss of an ex spouse.
Amarillo, Texas (PRWEB) December 26, 2015
The death of a spouse is a traumatic event, and there are many supports available for the survivor. But what happens when an Ex-spouse or partner dies? There are few ways to acknowledge that often complicated grief. In a society where multiple marriages are the norm and many families are comprised of siblings from multiple parents, how does one begin the mourn the death of a former spouse or parent? The death of an ex can lead to a plethora of mixed emotions: grief, sorrow, anger, confusion, and guilt. These feelings can be overwhelming, and there may not be anyone who understands the experience. In Surviving the Death of Your Ex, co-editors, Robyn Hass and Robbie Davis-Floyd, share their stories of losing their ex-husbands and the range of emotions that they experienced. They also reached out and brought together stories of other women. Each story is unique, but all share similarities.
Surviving the Death of Your Ex helps those see they are not alone. It also provides valuable advice for coping and a list of helpful resources. Readers like Melanie White have noted, "I wish I could have accessed something like this long before the death of my ex. I would've been more enlightened and had a tiny head's up on the journey." And Annette Birchard, whose former spouse experienced an untimely and tragic death, commented after reading, "After the murder of my ex-husband, I searched online for information on how to help myself and my daughter, but I didn't find very much material. This book will provide a valuable resource for those who have experienced the death of an ex-spouse. In the 21st century, blended families are common, and resources to help surviving ex-spouses and children are desperately needed." They hope to reach a group of women who are largely ignored in the grief process, but need emotional support during this challenging time.
Robyn Hass, MSW, MPH is a very happily re-married wife and mom to two young boys and three beautiful step-daughters. After completing a double master's degree in social work and public health in 2002, Robyn began working for an international firm providing public health and business management consulting to various high-profile clients, including the U.S. Department of Defense. She has since "retired" from the consulting world, and she and her husband now own a small business together.
Robbie Davis-FloyD, PhD, is a Senior Research Fellow, Department of Anthropology, University of Texas, Austin, and Fellow of the Society for Applied Anthropology. She is an internationally renowned speaker, author of over 80 published articles, and author, co-author, or lead editor for 10 volumes, including Birth as an American Rite of Passage.
Ms. Hass and Dr. Davis-Floyd decided to collaborate on this book when they mutually discovered that they wanted to write about their experiences of dealing with the deaths of their ex-husbands, and to find others who wished to do the same. They share a strong passion for hearing women's voices and providing a forum for their stories. That shared passion has resulted in this book. Both are based in Austin, Texas.
Praeclarus Press is a small press that specializes in women's health founded by health psychologist Kathleen Kendall-Tackett, PhD, IBCLC, FAPA. It features books, webinars, and products that support women's health throughout their lifespan. Based in Amarillo, Texas, the mission of Praeclarus Press is to produce materials that change women's lives.