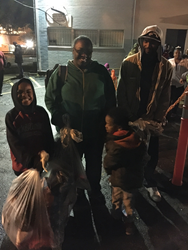 I personally believe in giving back and participate in various philanthropic opportunities throughout the year. Hellping children on a local, national and international front is a very imporant endfeavor that needs support from all of us.
Houston, TX (PRWEB) December 22, 2015
Bill Voss and some of his attorneys, including Scott Hunziker, Bryan Beverly, Zach Mosley, Timothy Burns and James McClenny, had the privilege and honor to participate in a worthy cause by donating Christmas gifts to the children of Houston this past week. The Voss Law Firm, P.C. delivered gifts through Montrose Street Reach, Youth With A Mission [YWAM] Houston, and Joe Williams Ministries who came together to reach the often forgotten and ignored at-risk street kids and older homeless in the Montrose area of downtown Houston. Among the estimated 1,500 homeless youth living on and/or making their living from the streets of Houston, many are abused, emotionally unstable, educationally challenged and jobless. Shockingly, among this troubled group of youth, there are young women attempting to raise children in the vicious street environment. These mothers frequently turn to other street kids as babysitters, thus exposing their children to unhealthy environments.
The Voss Law Firm, P.C. is active in ministry and giving back to the community. Mr. Voss personally believes in giving back and participates in various philanthropic opportunities throughout the year choosing to give to various causes both locally, nationally, and internationally. To get involved in helping those in need, or to simply keep up with the various projects the law firm supports, reach out to Mr. Voss directly via his website http://www.vosslawfirm.com or track the firm via their various social platforms or blogs.
Montrose Street Reach, a partnership between Joe Williams Ministries and Youth With A Mission-Houston, is a Christian non-profit corporation that is recognized by the IRS as a 501(c)(3) tax-exempt organization. The faith based group work in the Montrose community of Houston, Texas, in the heart of the inner city. Their mission is to see at-risk urban youth and older homeless transformed by transitioning them out of their current environment and equipping them to lead productive lives through Jesus Christ.