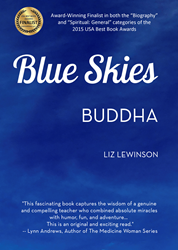 Blue Skies Buddha, the biography of Rama - Dr. Frederick Lenz, #1 bestseller on Amazon Kindle.
San Antonio, Texas (PRWEB) December 23, 2015
Mystic Buddha Publishing House today announced that Blue Skies Buddha, the acclaimed, award-winning biography of the American Buddhist teacher Rama – Dr. Frederick Lenz, has achieved #1 best seller status on Amazon Kindle. Blue Skies Buddha tells the true story of the journey undertaken by a rebellious American teen who is told that the teachings of an ancient Tibetan Buddhist order are in his hands, and it is his life's work to share them with millions of people.
"I am delighted by the warm response to Blue Skies Buddha," says author Liz Lewinson. "The biography is based on hundreds of interviews and offers invaluable lessons for readers at all stages of their life. When people read this book, they tell me about remarkable experiences and aha! moments as they turn the pages."
Roger Cantu, Editor in Chief of Mystic Buddha Publishing House, states, "The #1 status on Kindle for Blue Skies Buddha is a great beginning. We anticipate that the audience for Blue Skies Buddha will continue to grow dramatically because this is a timeless book and a compelling, original story. Readers are recognizing the value it brings to their lives in many positive ways."
Blue Skies Buddha was selected as a Finalist by USA Book News Best Books of 2015 in both the Biography and Spirituality: General categories.
Blue Skies Buddha is currently available on Amazon, Barnes & Noble, and bookstores worldwide.
For further information on Blue Skies Buddha, contact info(at)mysticbuddha.com or visit http://www.blueskiesbuddha.com.