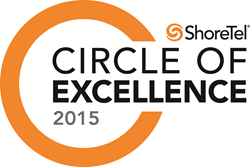 "Being named to the Circle of Excellence is the highest accolade given by ShoreTel to its partners, and we're very pleased to welcome Converged Technology Professionals Inc. into this elite group
Chicago, IL (PRWEB) December 23, 2015
Converged Technology Professionals announced today it has received ShoreTel's Circle of Excellence Award in the U.S. Solutions category for the 2015 partner year, covering the October 2014 through September 2015 time period. The award recognizes CT-PROS for exceptional achievement in areas including net billings and billings growth, new cloud bookings/monthly recurring revenue, and customer satisfaction. Partners in the U.S. Solutions category had to demonstrate a combination of growth for both onsite net billings and cloud bookings. ShoreTel, Inc. is the leading provider of brilliantly simple phone systems and unified communications (UC) solutions.
"We are honored to have this elite status awarded to our organization. This is a very highly coveted designation that all ShoreTel partners strive for worldwide. Considering ShoreTel's market growth globally and the challenges of our industry being named to the top 10 dealers is very humbling. This award was achieved by a direct result of sales and operational excellence working together to meet the demands of our clients. We are very thankful for all of clients and strategic relationships for helping us accomplish this elite title," said Joe Rittenhouse, President of Business Development at CT-Pros. "The ShoreTel COE award represents the culmination of a plan to do things differently in the telecommunications industry set into action many years ago. I'm proud of our team here at CT-Pros; without them, we are nothing. I'm also very grateful for all of our existing customers for believing in this team and hopeful that new customers join us to see the CT-Pros difference," added Eric Peterson, President of Operations at CT-Pros.
"Being named to the Circle of Excellence is the highest accolade given by ShoreTel to its partners, and we're very pleased to welcome Converged Technology Professionals Inc. into this elite group," said David Petts, senior vice president of worldwide sales at ShoreTel. "The Circle of Excellence Award is presented to ShoreTel's top global reseller partners, and each year less than one-half of one percent of all partners earn this distinction. We're proud that CT-PROS surpassed the strict criteria required to earn Circle of Excellence status this year. "
ShoreTel partners specialize in delivering ShoreTel's solutions portfolio as well as training and supporting end customers. They have expertise in disciplines such as LAN, WAN, call center, voice and data application integration. ShoreTel and its partners share the same goals in delivering UC solutions that improve communication and collaboration, with superior levels of customer care and satisfaction at a low total cost of ownership.
About CT-Pros
Converged Technology Professionals, with offices in Chicago, Crystal Lake, Grand Rapids, Milwaukee, and Indianapolis, is a globally-recognized, award-winning unified communications and mobility solutions provider, based in the Midwest and serving a wide range of organizations from medium-sized businesses to multi-site large enterprises for their mobility, voice, and data needs. CT-PROS supports clients on 6 different continents, over 200 countries and has recently surpassed supporting over 250,000 end users globally. CT-PROS is a technology based consulting firm with a primary focus on client relationships. Converged is one of the largest VAR's in the Midwest and considered to be one of the fastest growing privately held consulting firms in the United States. For more information, visit http://www.ct-pros.com.
About ShoreTel
ShoreTel, Inc. is a leading provider of brilliantly simple IP phone systems and unified communications solutions powering today's always-on workforce. Its flexible communications solutions for onsite, cloud and hybrid environments eliminate complexity, reduce costs and improve productivity. Recognized for its industry-leading customer experience and support, ShoreTel's innovative business phones, application integration, collaboration tools, mobility, and contact center applications enable users to communicate and collaborate no matter the time, place or device, with minimal demand on IT resources. ShoreTel is headquartered in Sunnyvale, Calif., and has regional offices and partners worldwide. For more information, visit http://www.shoretel.com.
ShoreTel and the ShoreTel logo are trademarks or registered trademarks of ShoreTel, Inc. in the United States and/or other countries.