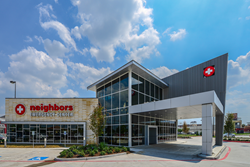 Dallas, Texas (PRWEB) January 21, 2016
T-System, Inc. today announced Neighbors Emergency Center, one of the largest freestanding emergency center (FSEC) networks in the U.S., will implement T-System's emergency department information System (EDIS), EV, to enhance care delivery and improve workflow.
Since opening in 2008, Neighbors Emergency Center has expanded rapidly and today operates 12 U.S. locations. With plans to open several additional locations before the end of the year, Neighbors Emergency Center sought to find an electronic health record (EHR) system to meet the needs of their rapidly growing business. After assessing several systems, Neighbors chose T-System to improve clinical, operational and financial outcomes.
"We need a robust ED system that meets our strategic and operational needs, ensures staff satisfaction, and facilitates the successful evaluation, diagnosis and treatment of our patients," said Lauren Cotton, RN, CEN, MS, chief nursing officer of Neighbors Emergency Center. "When it comes to the unique dynamics of around-the-clock, fast paced emergency care, not all systems are created equal. T-System has the paramount reputation in the emergency care space and we're confident they can provide the infrastructure, expertise and support to fuel our company as it grows for the long term."
Specializing in emergency medicine documentation, T-System provides solutions for the episode-based care market, including hospital-based emergency departments (EDs), FSECs and urgent care centers. As a FSEC, Neighbors cares for a wide range of patients with varying acuities, 24 hours a day, with success dependent on their ability to overcome unique challenges EDs face.
"The executive team at Neighbors Emergency Center still regularly sees patients, so clinical workflow and effective documentation was very important to us when selecting a system," said Cotton. "We immediately recognized how EV could help us facilitate efficient and high quality care."
Neighbors will implement EV across their network of facilities over the coming months. The solution will include the full set of features including nurse and physician charting with emergency specific clinical content and workflow, clinical decision support, CPOE, e-prescribing, reporting and analytics.
"We're very proud to be chosen by Neighbors, a leading freestanding emergency center care provider, and to deliver our documentation solution for their facilities," said Tom Dunn, executive vice president of sales and marketing for T-System. "With the rapid expansion of the freestanding emergency center market, T-System is honored to be the preferred documentation partner for this growing care setting."
About Neighbors Emergency Center
Neighbors Emergency Center is a network of freestanding emergency care facilities currently serving several communities across the U.S. Offering convenient, elite and around-the-clock emergency care since 2008, Neighbors has quickly become one of the largest FSEC networks in the U.S. Neighbors Emergency Center believes the best medical care begins with patient centered efforts, which includes personalized care plans and physicians who take the time to answer each and every question. For additional information about Neighbors, please visit http://www.nec24.com.
About T-System
T-System is a healthcare IT company that advances care delivery and financial outcomes for episodic care. Specializing in emergency department documentation since 1996, T-System has since expanded its focus to include the development of innovative solutions for the rapidly expanding episode-based care market, including hospital-based emergency departments (EDs), freestanding emergency centers and urgent care centers. Through clinically-driven services and documentation solutions as well as charge capture and coding solutions, T-System solves clinical, financial and operational challenges for our clients. About 40 percent of the nation's hospital-based EDs, freestanding emergency centers and urgent care centers use T-System to improve the clinical encounter, including the documentation of the patient visit as well as the downstream outcomes related to that event. For additional information about T-System, please visit http://www.tsystem.com.