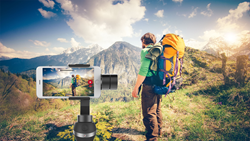 Born for Creators
Las Vegas, NV (PRWEB) December 29, 2015
DelTron Intelligence Technology Limited is pleased to announce Vimble on http://www.vimbles.com, on January 1, 2016. Vimble is a revolutionary smartphone gimbal that works with the accompanying iPhone app, ViCam.
Vimble is the first gimbal on the market built specifically for artists on the go who want to create high-quality videos and photos with just an iPhone. Vimble's 3-axis stabilizer can keep the smartphone stable on even the roughest terrain, ensuring a clear shot every time.
Vimble is the first smartphone gimbal to offer advanced features such as face tracking, automatic panorama and night mode through the ViCam app, which works seamlessly with the Vimble itself. The intuitive ViCam interface and joystick-based control system give users complete mastery over every dimension of their creations without requiring extensive setup times.
With Vimble and ViCam, users can transform their iPhones into a professional-quality camera without spending thousands of dollars on filmmaking equipment.
Vimble will launch on http://www.vimbles.com and Amazon on January 26, with an MSRP of $369. Preordered Vimbles will be delivered within 30-40 business days.
DelTron Intelligence Technology Limited will be attending the 2016 Silicon Valley Launch FEST at the Tuscany Village and Suites, 255 East Flamingo Road Florentine Ballroom Las Vegas NV 89169, Tuesday, January 5, 2016 from 12 AM to 4 PM (PST) ahead of the Consumer Electronics Show.
DelTron Intelligence Technology Limited will demo Vimble at the Consumer Electronics Show at booth 81649 in Eureka Park, the Sands Expo Convention Center at 201 Sands Avenue Las Vegas, NV 89169, in Hall G, Level 1 from January 6 to January 9.
About Deltron
Born out of a desire to give creators on the go everything they need to tell their stories, DelTron Intelligence Technology Limited is the Hong Kong-based creator of Vimble, the most advanced iPhone gimbal on the market. 2016 will ring in a new era of smartphone photography.
Visit http://www.vimbles.com for more details.
Press Kit: https://drive.google.com/folderview?id=0B-yCryaQO8UlQk00S2swRW14YU0&usp=sharing
Media Contact
Bond Zhao
517-775-6653
bond(at)vimbles(dot)com
Louis Zheng
865-607-2400
Louis(dot)zheng(at)zspaceship(dot)com