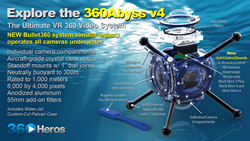 These upgrades are going to revolutionize underwater virtual reality filming.
Olean, NY (PRWEB) December 30, 2015
360Heros announces the 360Abyss v4, an electronic, automated underwater dive housing for creating virtual reality 360 video and 360 photos. Already a premier solution for content creators and divers, the upgraded camera housing introduces electronics for simultaneous camera control and new features for improving 360 video workflow.
The most significant upgrade to the 360Abyss is the 360Heros Bullet360 control board system enabling users to simultaneously operate the rig's six GoPro™ cameras by plugging them into an internal wired interface. The system is triggered magnetically and features controls for turning cameras on and off and firing the camera shutter buttons for both video and photos underwater.
The magnetic control also triggers an on-board buzzer set to go off three seconds into recording to provide an automated audio sync signal to help align multiple video frames in post production.
This low power communication board system is compatible with GoPro™ HERO3+ Black, HERO4 Black and HERO4 Silver cameras.
The 360Abyss v4 dive housing is rated to 1,000 meters and certified to 500 meters with neutral buoyancy in salt water. The rig features six individual pressurized camera compartments to keep components separate and secure.
"These upgrades are going to revolutionize underwater virtual reality filming," Michael Kintner, CEO and founder of 360Heros, said. "The 360Abyss v4 solves many of the challenges VR content creators face when working with multiple cameras underwater such as conserving battery supply and triggering cameras simultaneously for video and audio sync."
"We've discovered in our tests while filming at 120 frames per second that we're seeing a better, more consistent frame sync than what can be achieved syncing cameras with a WiFi remote."
The 360Heros Bullet360 control board system includes dedicated input and output ports for multi camera installations that can control up to 50 or more cameras simultaneously. This technology will also be incorporated into future products for filming 3D 360 video underwater which will be introduced in the second quarter of 2016.
The 360Abyss v4 has an anodized 6061-T5 aluminum core to act as a heat sync to help prevent overheating in a small pressurized chamber. The ability to turn the cameras on and off underwater also combats battery consumption.
The 360Abyss' 3/8" threaded corner mounting points have also been upgraded to aluminum for improved durability and strength. Additionally, the 1-inch ball joint allows universal connection with film accessories such as lighting and mounting. The unique remote triggering system allows the 360Abyss v4 to be operated above water, below water, from the inside of a submarine, on ROVs, research vessels and many other remote dive triggering solutions.
The 360Abyss v4 system will debut at the 2016 Consumer Electronics Show, January 6th-9th at 360Heros booth 26417.
360Abyss v4 Key Features
-Houses 6 GoPro™ cameras in individual compartments for capturing 360 video/ 360 photos
-360Heros Bullet360 electronic boards for simultaneous camera control
-Magnetic trigger for turning cameras on/off underwater and firing camera shutters
-Automated audio sync buzzer to aid in frame sync in post production
-Rated to 1,000 meters and certified to 500 meters with neutral buoyancy in salt water (slightly negative in fresh water)
-Output up to 8K (8,000 x 4,000 pixels) resolution 360 video
-Anodized 6061-T5 aluminum core housing for durability and to help prevent camera overheating
-8 anodized aluminum threaded 3/8" mounting points
-Aircraft grade poly carbonate domes offer a 360-degree crystal clear field of view underwater
-45-degree mount attachment for submarine and ROV compatibility
-Unique remote triggering system offers ease of use for submarines, ROVs and many other industrial remotely controlled solutions
About 360Heros:
360Heros Inc., a company specializing in virtual reality 360 video technology, creates camera systems that capture 12K resolution spherical VR content. 360Heros also develops 360 video workflow solutions such as 360CamMan™, the world's first VR media management software. Through years of research and innovation, 360Heros is empowering content creators to push the limits of this emerging technology and our ability to create immersive content. 360Heros, Inc. is not an affiliate of GOPRO® or Woodman Labs, Inc. 360Heros is a very proud user of GOPRO® cameras.