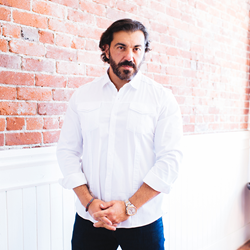 She knows first hand what leveraging media relationships can do for your fitness business, personal brand, and market domination
Irvine, Calif. (PRWEB) December 28, 2015
Bedros Keuilian, creator of PTPower and founder of the popular Fit Body Boot Camp franchise, presents the 2016 Fitness Business Summit taking place March 18-20, 2016 in Irvine, California. Stephanie Joanne will be giving seminars on how to attract media attention and leveraging them for optimal business exposure.
Next year's event is set to be the largest in the series, with multiple fitness business experts giving coaching talks to boot camp owners, personal trainers, fitness professionals and coaches on marketing techniques and how to succeed in the industry. The event will be niche market friendly and is open to those that are new to the industry as well as veterans.
Stephanie Joanne is an expert when it comes to attracting media attention and how to use the attention to her advantage to promote business. She will be coaching attendees on strategies she has utilized herself to become a fitness celebrity. By utilizing her techniques, fitness industry experts and new business owners will be able to quickly spread their businesses to as many people as possible.
"She knows first hand what leveraging media relationships can do for your fitness business, personal brand, and market domination," says Bedros. "At Fitness Business Summit 2016, Stephanie will be teaching you the exact strategy she used to attract over 200 media appearances."
A fitness and health coach, personal branding strategist, business consultant, blogger and mentor, Stephanie looks to help entrepreneurs get known in the fitness community. She makes sure to always know the latest in social media so that her clients can learn how to use online resources for maximum exposure and profit.
Stephanie started out as a personal trainer and soon began helping thousands of clients reach their goals before moving on to creating a top-selling DVD. She soon earned the title of the most well-known fitness experts in Canada. She has been named one of the top people that can change a person's life and looks to share her knowledge with fitness entrepreneurs around the world.
Attendees will be taught how to use social media to earn the attention of multiple large name companies that will push their fitness business to the top.
Fitness Business Summit takes place March 18-20, 2016 in Irvine, California. Attendees are encouraged to wear fitness casual and comfortable clothing during the main event and bring cocktail party attire for the networking party. To learn more about the event, visit the official website: http://fitnessbusinesssummit.com/
About PTPower:
To find out more about Bedros Keuilian, his company PTPower.com and the fitness boot camp franchise, Fit Body Boot Camp, contact Bedros Keuilian at (800) 261-0208. Alternatively, you may use the contact form at http://ptpower.com/contact-me/ or send an email to Bedros Keuilian at support(at)keuilian(dot)com.