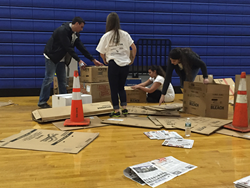 We couldn't get a blanket because there weren't any left when we arrived at the homeless shelter.
Lexington, MA (PRWEB) December 23, 2015
The Helping Our World (HOW) humanitarian service club at Lexington Christian Academy (Lexington, MA) hosted an educational and experiential event on the evening of December 4th, 2015 in the LCA gymnasium. The HOW student planning board, lead by Jill Bowdring '16 (Lexington,MA), had goals to raise awareness for the needs of homeless individuals and families in local communities while raising funds to support the Somerville Homeless Coalition (SHC). Corporate sponsors for the event included Lexington Toyota, Wilson Farm, Tricon Sport, D'Agostino's Deli, and Lakota Bakery. Each student attending received an event T-shirt with sponsor advertisements, as well as bible verses that reinforced the motive to serve those in need of shelter and food.
Students "took a bite out of homelessness" by beginning the evening in a soup kitchen and enjoying a meal prepared by LCA's chef, Steve Schmidt. After dinner, students were invited into an engaging presentation by SHC Director, Mark Alston-Follansbee who challenged their understanding of homelessness and suggested ideas for future service. The experiential, "Gimme Shelter" activity placed students into small "family" groups where they assumed the persona of an actual homeless person. Each group was instructed to navigate to five locations around the school gym where they accumulated supplies to feed and shelter their "family" for the evening. These locations included a homeless shelter and a food bank. When all supplies were gathered, students were challenged to construct a shelter for their "family" with recycled cardboard. The evening finished with a showing of the movie, "Pursuit of 'Happyness" which depicts the real life story of a man and his son overcoming homelessness.
Following the activity, students were asked to reflect on what was most challenging or humbling about experiencing what homeless individuals faced every day. Students quoted the following:
"It was very hard to build a substantial shelter."
"Now I understand a little about how difficult it is to live on the streets."
"It was challenging when another group was trying to steal items from us. Without regulations, living on streets is hard."
"We couldn't get a blanket because there weren't any left when we arrived at the homeless shelter."
"We won't just assume that people bring homelessness upon themselves."
In the New Year, HOW will partner with Starlight Ministries, the homeless ministry arm of the Emmanuel Gospel Center, to be trained to meet and serve Boston Common's homeless population.