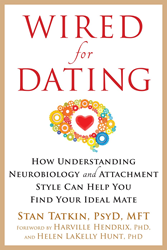 "Everybody wants someone to love and spend time with, and searching for your ideal partner is a natural and healthy human tendency." - Dr. Stan Tatkin, PsyD, MFT
Calabasas, CA (PRWEB) January 02, 2016
Dr. Stan Tatkin, PsyD, MFT, bestselling author of Wired for Love and co-creator of a Psychobiological Approach to Couple Therapy® (PACT) and the PACT Institute, has announced the launch of his new book, Wired for Dating: How Understanding Neurobiology and Attachment Style Can Help You Find Your Ideal Mate. Wired for Dating offers powerful tips based in neuroscience and attachment theory to help you find a compatible mate, and go on together to create a secure-functioning relationship.
The central idea behind Wired for Dating is that secure functioning is at the core of all successful relationships. The principle of secure functioning is rooted in attachment theory and research, and describes a relationship with the following characteristics:

Security ("we protect each other")
Sensitivity ("we are aware of each other's needs")
Justice and fairness ("we quickly repair any hurts that occur")
Collaboration ("we're in this together")
True mutuality ("what is good for me is good for you")
Using real-life scenarios, Dr. Stan Tatkin explores key concepts about why people become attracted to potential partners, move toward or away from commitment, and the important role the brain and nervous system play in this process. Each chapter explores the scientific concepts of attachment theory, arousal regulation, and neuroscience.
"When it comes to courtship, biological and social influences can be at odds. It may be that your biological hard wiring leads you to want a committed relationship, but that the prevailing mores in your social group carry a strong pull in the opposing direction," explained Tatkin. "Everybody wants someone to love and spend time with, and searching for your ideal partner is a natural and healthy human tendency. Just about everyone dates at some point in their lives, yet few really understand what they're doing or how to get the best results."
Dr. Stan Tatkin, PsyD, MFT, is also the author of Wired for Love, Your Brain on Love, and Love and War in Intimate Relationships. To learn more about Wired for Dating, visit http://amzn.to/1PEFXTB.
About the PACT Institute
The PACT Institute is a leading global organization that offers trainings for clinical professionals in a method designed to help secure-functioning relationships flourish. The Psychobiological Approach to Couple Therapy® (PACT) draws on more than three decades of research on developmental neuroscience, attachment theory and arousal regulation. Since 2008, the PACT Institute has trained more than 1,000 practitioners across North America, Europe, and Australia and has expanded the training to three levels. The PACT Institute now has a core faculty of 11 expert therapists. PACT has quickly gained a reputation for effectively treating even the most challenging couples. For more information visit: http://www.thepactinstitute.com.
About Stan Tatkin, PsyD, MFT
Stan Tatkin, PsyD, MFT, is an assistant clinical professor at the UCLA David Geffen School of Medicine and has a private practice in Calabasas, CA. He and his wife, Tracey Boldemann-Tatkin, PhD, together founded the PACT Institute, through which they lead therapist training programs in major cities across the United States and around the world. Tatkin is the author of well-received books about relationships, including Your Brain on Love and Wired for Love: How Understanding Your Partner's Brain and Attachment Style Can Help Defuse Conflict and Build a Secure Relationship, and is coauthor of Love and War in Intimate Relationships.