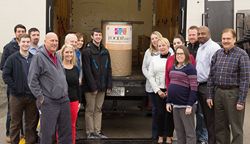 Batzner is committed to giving back to the community.
New Berlin, WI (PRWEB) December 23, 2015
Batzner Pest Control presented the Food Pantry of Waukesha County with 1,886 pounds of food today. The Food Pantry of Waukesha County is dedicated to providing food to many Waukesha County residents who go hungry every day.
Batzner team members throughout Illinois and Wisconsin were challenged to donate food items at their team meetings in December. Each team's collection bin was weighed at the end of the competition to see which team would be crowned victorious.
"Batzner is committed to giving back to the community," said Jerry Batzner, CEO and President of Batzner Pest Control. "I believe it is important to support the communities that have allowed us to protect their brands, food, health, property and families."
With over 130 team member's contributing to the Food Pantry of Waukesha County's mission, Batzner donated nearly one ton of food. A team even exercised creativity by encouraging employees to bid on homemade specialty nuts. The money collected for the homemade nuts was used to purchase additional food to help the team collection efforts.
"We are excited that our donation was able to assist the Food Pantry of Waukesha County in their fight against hunger in the community," Batzner said.
In working with the Food Pantry of Waukesha County, we can help others in need together. The Food Pantry encourages others in the community to host food drives to help sustain their inventory. For more details, visit http://www.waukeshafoodpantry.org.
###
Batzner Pest Control is the largest independently-owned pest control services provider in Wisconsin and is expanding rapidly in Northern Illinois. Founded in 1946 and now in its third generation of family ownership, Batzner has mastered its mission of providing legendary pest control solutions to homes and businesses throughout its service area. Batzner is one of only 3% of pest control companies nationwide that are QualityPro Certified – the leading certification program from the National Pest Management Association. For more information, visit http://www.batzner.com.