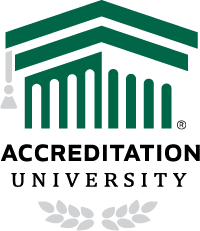 Cary, NC (PRWEB) December 23, 2015
Accreditation University, a division of Accreditation Commission for Health Care (ACHC) today announced the release of its 2016 event calendar, offering more educational workshops than ever before. Developed to educate healthcare professionals on the requirements needed to achieve and maintain compliance with ACHC Accreditation Standards, Accreditation University workshops are a proven resource to help providers prepare for the initial or renewal accreditation survey. The 2016 calendar lists more than 20 workshops covering the Pharmacy, DME, Home Health, Hospice, and Private Duty service lines.
With more than 29 years of experience partnering with healthcare providers to deliver an educational accreditation service, ACHC understands the importance for healthcare providers to have access to comprehensive educational resources that facilitate quality patient care, efficient business operations, and compliant practices. Workshops are instructed by Clinical Compliance Educators who have extensive experience in their field, offering a personal approach to education that provides valuable insight.
"Our workshops allow us to break down the accreditation process and apply the standards in a way that drives the highest quality patient care and enhances business efficiencies," said Greg Stowell, Accreditation and Consulting Manager. "It is truly remarkable to recognize the transformation that participants undergo during the workshops, bringing a fresh perspective and knowledge back to their business. Participants are better prepared to run the compliance program at their organization after attending training."
In addition to educational workshops, Accreditation University offers a comprehensive suite of resources designed to help healthcare providers excel in their field. Providers have access to a wide array of products and services that include tools, training, and consulting services. The full workshop calendar and additional educational resources can be found at AccreditationUniversity.com.
Accreditation University is a division of Accreditation Commission for Health Care (ACHC), a not-for-profit accreditation organization that has stood as a symbol of quality and excellence since 1986. The organization has CMS Deeming Authority for Home Health, Hospice, and DMEPOS and a Quality Management System that is certified to ISO 9001:2008. ACHC's broad range of accreditation programs also includes Pharmacy, Sleep, Private Duty Nursing, and Behavioral Health. ACHC is the provider's choice for accreditation because of its personal Account Advisors, relevant and realistic standards, competitive pricing, and consultative approach to accreditation. Accreditation by ACHC reflects an organization's dedication and commitment to meeting standards that facilitate a higher level of performance and patient care.
For more information on ACHC's accreditation programs and educational resources, or to download ACHC accreditation standards, please visit http://www.achc.org or contact them at customerservice(at)achc(dot)org or 855-937-2242.