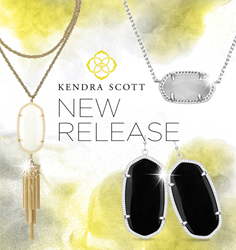 To celebrate the beauty and fabulousness of each woman by helping them reveal their personal style with gorgeous jewelry pieces.
Saratoga Springs, NY (PRWEB) January 14, 2016
Austin based designer, Kendra Scott, launched her acclaimed jewelry line in 2002, making her known for her symmetrical designs and signature gold and rhodium plated accessories featuring hand-cut gemstones. With values centered on authenticity, consistency and a focus on customer satisfaction, as reported by Forbes, Scott's ideals come in line with A Silver Breeze's philosophy to provide impressionable customer service and provide an opportunity to express one's uniqueness and personal style through jewelry pieces crafted with them in mind.
The Kendra Scott collection showcases earrings, necklaces and bracelets crafted with rhodium or 14k gold plated brass featuring hand-cut gemstones such as jade, turquoise magnesite, mother of pearl and rose quartz, to name a few. Prices range from as low as USD 40 to USD 195 and are now available for purchase on A Silver Breeze's online boutique at: http://www.asilverbreeze.com/kendra-scott
About A Silver Breeze
A Silver Breeze was founded with a philosophy in mind: give women the freedom to be themselves and embrace a sense of style that's unique to each of them. Loyal to the same values they had when they first opened, A Silver Breeze aims to offer quality pieces of jewelry that are not only dynamic and versatile but also aimed at the fashion forward woman, and to ensure that every shopping experience in an unforgettable one.
The store can be found at 516 Broadway and in Downtown Saratoga Springs, New York and is home to brands such as: Chamilia, Kameleon, Saratoga Jewels, Swarovski and the most recent, Kendra Scott, all of which are also available on their online store at: http://www.asilverbreeze.com