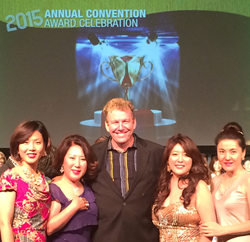 "The MC can make or break your event."
Los Angeles, California (PRWEB) December 23, 2015
Adam Christing is a professional master of ceremonies. He has hosted more than 500 corporate events, galas, and award shows. He has seen stages collapse, curtains accidentally set on fire, and even an event producer fired on-the-spot during a live meeting.
But he says that the crowning and uncrowning finale of the recent "Miss Universe" pageant hosted by Steve Harvey was the biggest snafu he has ever seen.
Just in case you missed it:
https://www.youtube.com/watch?v=nmqAjr0xs04
According to Christing, "Steve Harvey is a wonderful performer and a terrific host. But sadly, that one mega mistake caused him to instantly break 4 of the 5 Master of Ceremonies Golden Rules."
Rule #1: Make the show run smoothly
Rule #2: Help the guests look good
Rule #3: Leave the audience feeling UP
Rule #4: Put the event sponsor in a positive light
What about the 5th rule? Well, Christing says that Harvey did accomplish that one, but not the way he planned on. Rule #5 is: Make the event unforgettable.
After spending more than 25 years working with meeting planners, and making some mistakes of his own, Christing has identified a list of No-No's that might be helpful to both event coordinators and event hosts. Here is his Top 10 Do Not Lessons:
1. Do Not invite "Funny Fred" (your company class clown) to be your MC.
2. Do Not skip a pre-program run through of your entire show.
3. Do Not fail to give your MC carefully written guest introductions.
4. Do Not assume that a good DJ, comedian, or celebrity is necessarily a good MC.
5. Do Not permit risqué or racially insensitive language on stage.
6. Do Not put your entire budget into food or entertainment. The MC can make or break your event. Hire an experienced pro.
7. Do Not distract from the focal point of your event (raising funds, launching a new product, honoring award winners, etc.)
8. Do Not allow speakers to run past their allotted time.
9. Do Not schedule too many presentations in one show. Leave the audience wanting more, not wanting to leave.
10. Do Not forget the fun-factor. Make sure your group laughs and has a great time!
Christing is one of the event hosts featured on http://www.MasterofCeremonies.net The site is a resource for meeting and event planners in http://www.CleanComedians.com.
And Christing is confident that Steve Harvey will bounce back in a big way. He says, "We can all fail forward. Event producers and MCs can learn from these meeting mistakes. It hurts. But we learn huge lessons. Like they say in recovery groups: I respect wisdom…but I obey pain."