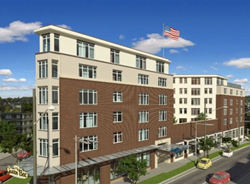 This is an extraordinary award ... and it's more confirmation that we are setting the standard for great projects in senior housing." - Dwayne Clark CEO Aegis Living
Redmond, WA (PRWEB) December 24, 2015
Aegis Living, a leader in the assisted living industry is proud to announce that Aegis on Madison, an assisted living community of Seattle's Capitol Hill, has been selected as a winner in the prestigious 2015 Senior Housing News (SHN) Architecture & Design Awards in the Assisted Living category. Aegis Living CEO Dwayne Clark says, "Our industry has become very competitive and every operator is looking for every advantage to set themselves apart. This is an extraordinary award and the envy of many around the country. And it's more confirmation that we are setting the standard for great projects in senior housing."
Senior living communities nationwide submitted their communities for consideration in the third annual SHN Awards, a contest that recognizes excellence by celebrating projects that improve the lives of seniors through innovative design. "We continue to be impressed with how designers, architects and operators are raising the bar each year for senior living communities," said SHN Publisher and Founder George Yedinak. "Owners and operators are setting themselves apart through design in an increasingly competitive market environment by leveraging innovative spatial designs and focusing their efforts on community integration in local areas."
From the more than 60 organizations that entered their communities in this year's competition, only seven projects were chosen as 2015 SHN Awards Winners for their unique approaches to senior living design.
Aegis on Madison was built in 2014 by Portland-based Anderson Construction. The architect of the 100,000 square foot luxury boutique hotel-style community is Seattle-based VIA; Aegis on Madison has 104 units, offering assisted living and memory care to seniors in the Seattle area. The building features a Sky Lounge, offering a breathtaking rooftop view of nearby Lake Washington, a movie theatre, showing the latest films and a Sports Cave, where residents can watch the Seahawks games on a big screen TV with family. Our focus at Aegis on Madison is on providing the highest dignity combined with highest support possible in an assisted living environment. Aegis on Madison offers the best in quality, excellence and cutting-edge design in senior living.
About Aegis Living
Aegis Living is a national leader in retirement, assisted living and Alzheimer's care, emphasizing health, quality of life, well-being and community. Aegis Living is guided by a simple philosophy: strive to treat our residents as if they are family. Founded in 1997 and headquartered in Redmond, Washington privately held Aegis Living operates 29 communities in Washington, California and Nevada with 7 in development. Additional information about Aegis Living is available at http://www.AegisLiving.com. Follow us on Twitter @aegisliving and Facebook at http://www.facebook.com/AegisLiving