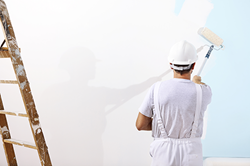 Before you commit to the expense and allow a crew into your home, know what you are getting and with whom you are working.
(PRWEB) December 22, 2015
ProShield Painters is one of many Hingham Massachusetts residential painting companies; however, the Angie's List Super Service Award Winner has maintained a stellar reputation with clients because the company understands the concerns of the customer. As a full-service painting company, ProShield Painters works in the home, with customers' valuable assets, and, often times, amidst family members. Taking on a contractor can be daunting for a homeowner, and the pressure goes far beyond choosing the right color. To help ease the hiring process, ProShield Painters recently released "Three Questions to Ask Before Hiring a Painter."
Ask if the interior painter checks for lead before applying any paint to the walls. Some older homes will have traces of lead paint buried beneath layers. In any case, this should be mitigated by a professional.
President of ProShield Painters Bruce Wheeler comments, "If your home was built before 1978, there is a chance that lead paint could still be in the original layers. This cannot be ignored."
Demand an explanation and written documentation of the contractor's process up front. A qualified contractor will have a standard process including:

Room setup to protect furniture and the floor
Room preparation (washing the walls, filling holes, caulking gaps, and sealing stains)
Painting (coat all included surfaces and area cleanup)
Final inspection (final touchup and a walk-through with the customer)
Will the contract include the important details? A qualified contractor will have a standard contract that can be tweaked to accommodate the customer's needs. All materials, by type and amount of surface preparation, should be included in the contract to protect the customer from hidden expenses.
Wheeler advises, "Ask about any additional costs for moving heavy furniture, painting crown molding or baseboards, or even walls or ceilings that are taller than average. Many Hingham Massachusetts painters will charge for this, however, the customer should always be made aware of this in the estimate—in writing."
Don't be afraid to ask for references. Quality references are simple to come by if the contractor has performed solid work.
Wheeler concludes, "Before you commit to the expense and allow a crew into your home, know what you are getting and with whom you are working. There is nothing worse than having someone in your home that you do not trust—and on the flip side, there is nothing better than having a respectful crew come in and apply a crisp, clean, and colorful coat of paint to warm up your home."
For questions on hiring a qualified Hingham Massachusetts painting contractor, call (781) 417-5059.
About ProShield Painters
Based in Boston's South Shore, ProShield Painters has served homeowners as a top-rated painting company since 2009. As trusted partners and qualified painters, ProShield helps homeowners improve their quality of living and real estate values through comprehensive interior painting and home repair.
ProShield Painters currently serves residents in Hingham, MA; Pembroke, MA; Norwell, MA; Hanover, MA; Duxbury, MA; Marshfield, MA; and beyond.