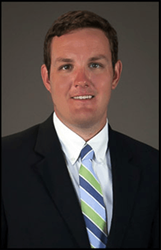 "At its core, our profession is centered on service to others, and I believe lawyers have a professional obligation to give back to the communities they serve," said Attorney Michael Rothrock.
Durham, NC (PRWEB) December 23, 2015
More than 20 colleges and universities competed at the 10th Annual Tobacco Road Invitational Mock Trial Tournament, November 14th and 15th. Attorney Michael Rothrock, with Durham-based law firm, the Law Offices of James Scott Farrin, was among the scoring judges.
Hosted by Duke University, approximately 200 undergraduate students from across the country donned their best barrister persona at the new Durham courthouse, where the mock trial took place.
This year's event was a criminal trial that involved a bribery component and an affirmative defense of entrapment. The cast of characters and accompanying evidence – a casino bell hop, card dealer, alleged $250,000 bribery money hidden in a briefcase, wire-taps, an inexperienced undercover cop, and masterminds behind the bribery.
Actors play the jury, judge, witnesses, defense and plaintiffs, and other courtroom participants. The undergrads are the "lawyers" who must try their cases as though it were an actual trial by jury.
Rothrock said, "The event, itself, is always well-run and organized, and it's fun to be a part of. The students put a great deal of time throughout the year into the competition and are very passionate about what they are doing, and sometimes gives rise to exciting courtroom drama."
It's the job of the scoring judges to listen to the case presentation the students make and assign them numerical scores that determine how far they advance in the competition. Judges also write constructive comments and provide feedback so the students can improve their skills moving forward.
The student lawyers are judged on their trial skills overall. This includes presentation skills, ability to think quickly on their feet, and their strategic decisions in questioning witnesses and use of exhibits, among other factors.
"I am consistently impressed by the high level of preparedness these students have. They are still pursuing their undergraduate degrees and are not too far removed from high school. Yet, they consistently behave like professionals and appear calm and skillful in the stressful environment of a courtroom competition with real legal professionals judging their performance," Rothrock said.
Education and community involvement are two personal values important to Rothrock, who enjoys volunteering his time every year at this competition. "At its core, our profession is centered on service to others, and I believe lawyers have a professional obligation to give back to the communities they serve," he said.
ABOUT THE LAW OFFICES OF JAMES SCOTT FARRIN
The Law Offices of James Scott Farrin is headquartered in the American Tobacco Historic District, adjacent to the Durham Bulls Athletic Park, in Durham, North Carolina, with 13 additional offices statewide in Charlotte, Fayetteville, Greensboro, Greenville, Goldsboro, Henderson, New Bern, Raleigh, Roanoke Rapids, Rocky Mount, Sanford, Wilson, and Winston-Salem. The firm's 36 attorneys focus on the following practice areas: Personal Injury, Workers' Compensation, Social Security Disability, Eminent Domain, Intellectual Property, Civil Rights, Mass Torts, and Products Liability. Five of the attorneys are North Carolina Board Certified Specialists in Workers' Compensation Law and one is a North Carolina Board Certified Specialist in Social Security Disability Law. The Law Offices of James Scott Farrin is involved in the community, including sponsorship of local philanthropic organizations and an active employee matching donation program.
Contact Information:
David Chamberlin
280 S. Mangum Street, Suite 400
Durham, NC 27701
866-900-7078
http://www.farrin.com