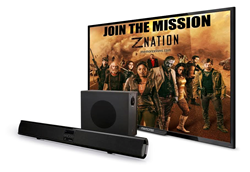 New York, NY (PRWEB) December 23, 2015
MEMOREX-CE, LLC (MEM-CE), the exclusive North American licensee of the Memorex® brand for Consumer Electronics, and New York based creative agency MagicBullet Media have selected the top 10 finalists competing in the "Memorex Lives!" online video contest for a once in a lifetime chance at breaking into Hollywood. From now until December 31st, MEM-CE is calling on America to help choose the Grand Prize Winner. Each finalist's entry will be open to popular voting based upon YouTube video views and America will have a chance to decide which finalist will walk away with the Grand Prize! More details and official contest rules are available at http://www.MemorexLives.com.
Top 10 Finalists (in alphabetical order):
● Alexa Steele: Brock's Former Associate
● Barton Helium
● Brock Calls Joey Lawrence!!
● Colt Sebastian Taylor Joins The Resistan[ce]
● Kayla Firestone - Brock's Lil' Sis
● Michael Talks to Brock
● Shell Master!
● The Chase
● Yeah, Dude, the Future Totally Wants You, Right
● Zombie A-Brock-Alypse
Three lucky winners will claim the following prizes:
Grand Prize*:
● Walk on role in a production produced by The Asylum
● An invitation to audition for a speaking role in a production produced by The Asylum
● Schedule a script pitch meeting with producers at The Asylum
● Memorex CrystalVision Ultra 55" 4K UHDTV w/ sound bar and subwoofer
Second Place Prize:
● 42" Memorex CrystalVision HDTV w/ sound bar and subwoofer
Third Place Prize:
● 32" Memorex CrystalVision HDTV
*Grand Prize Winner will be provided Transportation and accommodations for two people to Los Angeles, CA, for two nights to receive their walk on role and pitch session. Airfare and rental car will be provided for those living in the 50 States and cannot be exchanged for its cash value.
"The finalists truly showed the importance of creativity and came up with some fantastic and entertaining content. It's now in the hands of fans nationwide to determine our 'Memorex Lives!' winner - we can't wait to see who will top the list." explains Manuel Madriz, General Manager of MEM-CE, the exclusive licensee of the Memorex brand for North America.
The "Memorex Lives!" make-a-scene video contest featured actor, singer, and producer Joey Lawrence who partnered with MEM-CE to give the contest its Hollywoud touch. Lawrence played the role of superhero action star Brock Firestone, leader of "The Resistance" against The Evil Empire (tech giants). In the video, Lawrence's character Brock Firestone urges millennials to join "The Resistance" by only buying fairly priced products that deliver the same level of entertainment for less than what the premium brands are demanding, such as Memorex-CE products. Lawrence is best known for his roles as Joey Russo in Blossom, Joe Roman in Brotherly Love, and as Joe Longo in Melissa & Joey.
In July 2015, MEM-CE announced their partnership with The Asylum who is best known for their original productions and top-rated movie premieres for Syfy, Lifetime, and Animal Planet networks, such as the SHARKNADO franchise and Z NATION, the critically acclaimed action-horror series on Syfy. Through the partnership, Memorex products began making appearances throughout episodes in the Z Nation series. The products that made cameo appearances in the show are available throughout the holiday gift-giving season on http://www.memorex-ce.com and are identified with "as seen on Z Nation" packaging.
About MEM-CE, LLC
MEM-CE, LLC is an international manufacturing, brand management and marketing company founded in 2013, based in Eden Prairie, Minnesota. Operating under the trade name Memorex-CE, MEM-CE LLC was created to grow the consumer electronics marketplace for the Memorex brand under license from Imation Corp. The management team has 50+ years of combined experience developing domestic and international businesses, composed of executives with work histories at major multinational companies such as Electrolux, Best Buy and Polaroid. MEM-CE, LLC is the exclusive licensee of the Memorex brand for Consumer Electronics in the U.S., Canada and Mexico.
About The Asylum
The Asylum (http://www.theasylum.cc) is one of the world's leading brand-oriented motion picture and television studios. With a focus on high-concept, market-driven entertainment, like the SHARKNADO franchise and the popular Z NATION television series, The Asylum finances, produces and releases 25 films per year through its direct pipeline to the nation's top retailers and its network of international partners. Since its founding in 1997, The Asylum has released more than 500 films and has built a library of over 200 original productions, including top-rated movie premieres for Syfy, Lifetime, and Animal Planet networks. Last year, the Asylum launched its TV division and is now producing Season 2 of Z NATION, a critically acclaimed action-horror series on Syfy.
Hi-Res video, photo stills and press information is available to preview, download and share at
http://www.magicbulletmedia.com/MNR/memorexlives