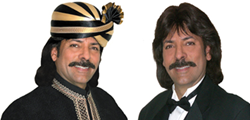 The enemy is radical Islam. The fight against it can be done only by Muslims. Only they alone can purge their faith of this extremism.
(PRWEB) December 23, 2015
Trump is on record in a Washington Post article on December 7, 2015, (https://www.washingtonpost.com/news/post-politics/wp/2015/12/07/donald-trump-calls-for-total-and-complete-shutdown-of-muslims-entering-the-united-states/), that he would like to see a 'total and complete shutdown of Muslims entering the United States.'
According to Shawn Rae, since the foundation of the United States of America nearly two hundred and fifty years ago, Muslims have consistently immigrated to the U.S., originally arriving as African slaves. Muslims besides serving in the U.S. military, work in occupations as diverse as space, literature, medicine (Dr. Oz), sports (Mohammad Ali, Julius Irving, Shaquille O'Neal), comedy (Aziz Ansari, Dave Chappelle), music (Cat Stevens, Mos Def, Casey Kasem), media (Fareed Zakaria) modeling (Iman), law (Amal Clooney) films (Ice Cube, Omar Sharif), etc. Sixty-six percent of American Muslims earn more than the $50K median household average yearly income in the U.S., in comparison to Muslims in Europe, most of whom live in ghettoized neighborhoods. Although few are politically active, there are two Muslim members of the House of Representatives, Andre Carson and Keith Ellison. Moreover, almost a quarter of the world's population is Muslim, with over a billion members of every imaginable race, nationality, and political orientation, constituting one fourth of the human race. In the U.S. (pop. 322 million), it is estimated that more than 70% of Americans identify themselves as Christians. Muslims account for about 1-2 per cent (2.75 to 7 million).
The grave act of terrorism committed on Sept. 11.2001 is embedded in the minds of Americans. However, dozens of Muslims also had died in the World Trade Center attack, including executives, traders, technicians (Abdu Malahi, an audio-visual manager was reported by several survivors for his selflessness before dying), restaurant employees, airplane passengers (Rahma Salie was on American Flight 11 with her husband). Muslims who were first responders were also victims (Salman Hamdani, 23, a NYPD cadet).
Ibrahim Hooper, the Communications Director for the Council on American-Islamic Relations (CAIR), said that even after 9/11 there was a reserve of goodwill for American Muslims. But recently, "unfortunately we are seeing rising levels of anti-Muslim sentiment in our society."
Some examples of the reasons behind Western fears of Muslims are:
Anti-blasphemy laws in the Islamic world. No one is allowed to even build a modest church in Saudi Arabia, while in the past Italy was expected to welcome one of the largest mosques in the world. Christians cannot repair a church wall in Egypt without permission. ISIS blew up what many consider to be the tomb of the prophet Jonah. The London terrorist bombing shocked British society when it was discovered that it was perpetrated by homegrown Islamist terrorists. The recent Paris bombing and attack in San Bernardino, USA. Also, a few days ago a Christian TV station was burned down in Pakistan, and the first Islamic compliant Malaysian airline took off, with hijab wearing Muslim flight attendants on a strict halal food, alcohol free flight.
According to a comment in the media by the editor-in-chief of, The Muslim World Today, "Contrary to the claims by the political Islamist establishment that Islam is a peaceful faith, their deeds convey just the opposite - there is nothing peaceful in what Islamists are doing in the world. The faith that the radical Islamists promote is one of "perpetual outrage." In the words of Thomas Jefferson, "I have judged other's religions by their lives, for it is from our lives and not our words that our religions must be read."
Trump's comments come at a time of growing concern about ISIS. He has stated in a Reuters video on Yahoo.com (http://news.yahoo.com/video/trump-muslims-pouring-america-091420997.html), over a week ago, "I have so many great relationships with Muslim people. They know there is a problem. They want the problem solved. It's hurting them more than it's hurting anybody."
Fifty-eight percent of Americans now have an unfavorable opinion of Islam, according to the latest YouGov/Huffpost poll of Americans.
The globally respected media personality, Fareed Zakaria, an Indian-American Muslim, in response to Donald Trump in a Washington Post column on, Dec.17, 2015, (https://www.washingtonpost.com/opinions/saying-radical-islam-has-nothing-to-do-with-defeating-terrorism/2015/12/17/d47cc82c-a4f6-11e5-9c4e-be37f66848bb_story.html), stated "In fact, the enemy is radical Islam. The fight against it must at its core be against the ideology itself. And that can be done only by Muslims — they alone can purge their faith of this extremism. The West can help by encouraging these forces of reform, allying with them and partnering in efforts to modernize their societies."
Shawn is a Muslim from Abbottabad, Pakistan (where Bin Laden was shot and killed). He is from the same ethnic Pashtun background as the Taliban, as is also, Malala Yousafzai, the youngest person to ever win the Nobel Peace. Malala was shot and gravely injured by the Taliban for campaigning for girl's education. These two Muslims from Pakistan, along with many others, are both working to bridge gaps by creating interfaith harmony, providing universal education to children, and helping to create a better understanding between the East and West.
For more info on Shawn Rae, visit the following sites:
1. Shawn Rae Video Biography: http://www.shawnrae.com/page82.shtml
2. Shawn Rae Website: http://www.ShawnRae.com