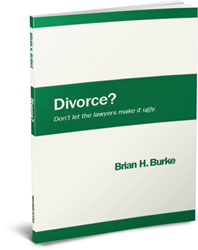 When seeking a divorce, hiring a lawyer to handle the whole matter used to be the only option.
Santa Barbara, California (PRWEB) December 23, 2015
"Unbundling" is a term that has been added to the lexicon of the law. When seeking a divorce, hiring a lawyer to handle all aspects of the case used to be the only option.
Brian H. Burke, with 30+ years of experience in family law, has developed a unique and powerful perspective on what matters most in the resolution of divorce. His first project addresses the corruption of conventional family law practice, written with wry humor in his book, "Divorce? Don't let the lawyers make it ugly," available in paperback and the Kindle Select program. The lawyers have a determinative effect on clients' experience, and the easy lessons in "Divorce? Don't let the lawyers make it ugly" show how this unfolds. At his website, taking the short Attorney-Client Relationship Quiz reveals useful guidelines for anyone in a family law case.
Burke knows that clients' values are what count in setting the course for a better divorce. His protocol for the RoadMap Consultation, a stand-alone, unbundled service for individuals, provides a structured format for developing a plan of action that matches the client's personal style and goals for the future.
His educational email series, "Preparing for Divorce," is designed to help people think through their own best pathway, as it poses practical, legal and personal questions in a paced, measured format.
Burke's most controversial unbundled service is again educational: The Toxic Divorce monographs and the Toxic Divorce Quiz explore and explain a phenomenon from the world of divorce that will be familiar to most family law attorneys, but is known to the public through the tabloids. These are the divorces that influence ordinary people's judgment and decisions about divorce in a negative way; these cases need to be managed in a way that is entirely different from the garden-variety divorce.
The divorce resource website at Navigate Divorce Guide is the culmination of Attorney Brian H Burke's 40+ years of experience in the field of law. He has been Certified by the California Board of Legal Specialization as a Family Law Specialist for over 30 years and has witnessed innumerable divorces in that time.