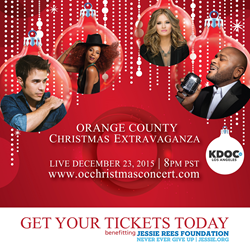 Garden Grove, CA (PRWEB) December 23, 2015
With the first national broadcast a little more than a day away, the Orange County Christmas Extravaganza has announced that American Idol favorite Jessica Sanchez will be featured during the performance from the world famous Arboreteum at the Christ Cathedral in Garden Grove, CA.
Joining Sanchez as additions to the show include Skip Schumaker of the Cincinnati Reds, and Peggy Tanous of the Real Housewives of Orange County will join host Ben Giroux, in bringing the incredible array of talent to the nation on Christmas. Featured performers include Americal Idols Ruben Studdard and Kris Allen, and American Idol fan favorites Pia Toscano, Paris Bennett, Elliott Yamin, Ayla Brown, and Tamyra Gray.
"To bring the Christmas Extravaganza to the nation from the location where literally millions have celebrated Christmas and watched from around the world is amazing," said Ron DeShay, producer of the OC Christmas Extravaganza. "We are blessed to have Jessica join us in addition to each of our celebrities and of course Ruben Studdard, Tamyra Gray, Kris Allen, Ayla Brown, Pia Toscano, Elliott Yamin and many others perform during the celebration."
In addition to the new expanded performing line up, the Orange County Christmas Extravaganza detailed the new online streaming site that will allow fans from across the country to watch the show live by clicking https://livestream.com/takeonedigital/occhristmasconcert.
"To have the opportunity for so many to join in this wondrous celebration of Christmas really was always our goal and it is gratifying to have that happen," explained Mr. DeShay. "The Joy of Christmas never ever gives up and we are very excited to share that joy with every viewer online and on television."
Broadcast live on KDOC in Los Angeles, as well having the red carpet arrivals broadcast live on KABC Channel 7, the ABC owned station in Los Angeles, the Christmas Extravaganza will feature performances by Ruben Studdard, Kris Allen, Tamyra Gray, Ayla Brown, Paris Bennett, Pia Toscano, Elliott Yamin, and many many others.
The telecast into the Houston, TX market will be aired on December 24th, 8-10pm by KUBE. In addition, KDOC will have an encore airing on December 27th.
The Jessie Rees Foundation, which is the official charity partner for the Extravaganza, has helped over 100,000 courageous kids battling cancer and their families by partnering with over 220 children's hospitals globally and across North America to distribute colorful JoyJars filled with treatment appropriate toys along with care packages for families.
For the Extravaganza, an anonymous donor has provided a match of up to $100,000 for all donations received as a result of the show.
"Christmas always opens hearts to caring and giving and Jessie Rees and the foundation she founded care for so many everyday," said Mr. DeShay. "We are honored to work with them on the Extravaganza and in the incredible work they do."
ABOUT THE ORANGE COUNTY CHRISTMAS EXTRAVAGANZA 2015
3-Time Emmy Nominated Producer, Ron DeShay announces his first annual Christmas Concert. The OC Christmas Extravaganza 2015! Set to be the holiday event of the season, in this festive concert, DeShay has tapped a special guest list of Idol alum, including Ruben Studdard, Kris Allen, Tamyra Gray, Alya Brown, Paris Bennett, Pia Toscano, Elliott Yamin and many others, will perform holiday classics as well as their own originals. A red carpet pre-show and Mayor's Ball* will precede the concert. A star-studded evening, with A-list celebrity hosts and presenters will help further the cause of the efforts of this holiday entertainment, black-tie event.
For information on the schedule of the evening's events and television broadcast go the http://occhristmasconcert.com/.
For ticket sales information, go to http://www.scfta.org/events/detail.aspx?id=13787.
For more information on the Jessie Rees Foundation, go to http://www.jessie.org.