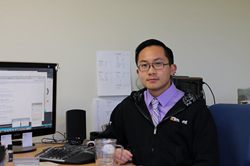 our clients can rapidly and easily change modules and templates, capture customized data from customers, and ultimately increase sales, revenues and profits
San Diego, CA (PRWEB) January 05, 2016
After two years of development and testing, Sarsis proudly announced today the launch of its groundbreaking new solution that enables businesses to rapidly and cost-effectively launch, maintain and evolve a full-featured, customized ecommerce website.
Sarsis' unique solution is built using robust web API-based Service Oriented Architecture (SOA), which supports a suite of unified, streamlined, flexible and integrated services that combine make ecommerce website implementation simple. These services include:

SARSIS:RAZOR Template, which is an MVC-based front end that uses a powerful view engine to display merchandise in customized formats, but without expensive or time consuming programming.
SARSIS:REST API, which displays product data and common ecommerce functions (e.g. shopping cart and checkout system) in a secure and ready-to-use format, and links to either the SARSIS: RAZOR Template or any client that can send/receive XML or json.
SARSIS:Business Engine, which is a powerful and sophisticated business engine that provides direct access to website code.
SARSIS:SpeedCache, which loads an entire product catalog into memory for rapid page loads. SpeedCache is integrated with both the SARSIS: Business Engine and SARSIS: Data, and also works as a standalone service to speed up virtually any process.
SARSIS:Data, which leverages a decoupled repository pattern to quickly build custom queries on returned data. The data directly accesses the database, without touching the application.
Of vital importance to ecommerce businesses of all sizes, Sarsis' solution offers unlimited scalability and can be easily deployed on multiple web servers to maintain throughout. In addition, Sarsis' caching servers can be replicated as needed, which prevents bottleneck risks and ensures capacity.
"Ecommerce businesses without an in-house team of experienced developed and engineers cannot afford to be saddled with the limitations of bloated pre-built templates," commented Sarsis' founder Quan Nguyen. "And that's where our new ecommerce platform makes a transformative difference. Either on their own or with our help, our clients can rapidly and easily change modules and templates, capture customized data from customers, and ultimately increase sales, revenues and profits."
Mr. Nguyen further added that his company's in-house team of developers and engineers are available to support ecommerce businesses with any aspect of implementation, maintenance and development, including customized hosting plans. "Unlike other companies that keep engineers and developers in the background and away from customers, we put our extraordinary team on the front lines – so they can provide the exceptional, professional and rapid service that we're known for. Simply put, we put ecommerce businesses in a better, stronger position to succeed."
For more information on Saris' groundbreaking new ecommerce platform solution, visit http://www.Sarsis.com.
For any additional information, including media inquiries, email sales(at)sarsis(dot)com or call 888.882.ECOM (3266).
About Sarsis
Headquartered in San Diego, Sarsis delivers a suite of solutions and services that enable ecommerce businesses to increase sales, revenues, profits – and ultimately succeed at a higher level. Learn more at http://www.Sarsis.com.