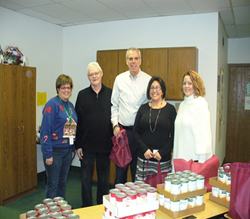 Akron, OH (PRWEB) December 23, 2015
On December 4th, Mature Services' donors and volunteers packed bags with the food trimmings needed for a delicious holiday meal for their Food Pantry clients with families. Recipients received a $20 Walmart gift card donated by Keith Sechler and Brigette Palumbo, and two bags of food. Food items included a ten-pound ham, biscuits, a pie from Gardner Pie Company, butter, gravy, stuffing, black-eyed peas, green beans, carrots, potatoes, hot chocolate mix, and Yowie candies.
An Akron non-profit agency that provides services to older workers, Mature Services believes it is the responsibility of all Americans to help provide food to those who are food insecure. Information from Feeding America, a hunger relief organization, highlights the problem: from 2013-2014, 16.9 per cent of households in Ohio lacked access to adequate nutritious food. Moreover, the Ohio percentage was higher than the national average of 14.3 percent.
"The holiday should be a happy time, but for those who visit our food pantry on a regular basis most days are a struggle," said Karen Hrdlicka, president and CEO of Mature Services. "So we are so pleased that we have partner companies, donors and volunteers who pool their time and resources to give an extra holiday meal in addition to the monthly 3-day supply of food we provide on a regular basis. It is truly a work of love."
IGA food stores in Akron and Gardner Pie, partners of Mature Services, generously donated to the cause. According to Scott, IGA manager, "They've referred business to us and we are willing to help out the seniors whenever we can." Alyssa from Gardner Pie affirmed, "We are always glad to help people in the community."
Food pantry primary donor Keith Sechler, Brigette Palumbo and Terri Foster all worked together to prepare the food donation bags. Karen Hrdlicka, President and CEO of Mature Services, Inc., and Clyde Doutt, Nutrition Program volunteer, also participated in filling the bags.
On December 21st and December 22nd, Clyde Doutt, volunteer, and Taylor Vaughn, Food Pantry Coordinator, distributed the food.
Recipient of one of the Christmas dinner bags, Mary, was so thankful for the food. "It means a lot for helping my family!"