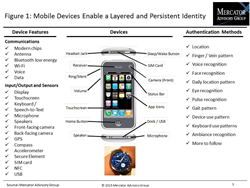 Surely every payment professional is well aware of these eight technologies, but are most likely unfamiliar with how rapidly they have evolved and are being put to use.
Boston, MA (PRWEB) December 23, 2015
New research from Mercator Advisory Group titled Eight Technologies That Will Impact Payments and Banking Going Forward provides readers proof points that support Mercator's predictions that six of these technologies will disrupt the banking and payments markets in 2016 and the other two will be in market as pilot implementations. Financial institutions that fail to recognize and prepare for these technologies will be at a market disadvantage.
"Surely every payment professional is well aware of these eight technologies, but are most likely unfamiliar with how rapidly they have evolved and are being put to use," said Tim Sloane, VP, Payments Innovation, and author of report. "The elimination of passwords is no longer the distant future and mobile devices coupled with payment APIs are creating a set of new payment services that enable consumers to use existing merchant accounts at new locations. The goals of this report are to demonstrate that these technologies will be deployed in 2016, to identify the solutions within the payments and banking infrastructure that will utilize the technologies first, and to help our members quantify the effort that will be associated with embracing these technologies directly utilizing internal IT resources or by using third party expertise."
Highlights of the report:

Predicts the products and operational areas that will be first to see these technologies appear in the market
Provides guidance regarding the importance of each technology, when action should be taken, and an approximation of the resources that will be needed to deploy solutions using these technologies
Explains how biometrics will be layered with more traditional approaches to make customer access easier and more secure, eventually eliminating passwords for all but the riskiest environments
Identifies the evolution of wearables not only as a component of biometric acquisition but also more immediately as a mechanism for deploying financial information, guidance, and payments for millennials and affluent consumers
Reviews the use of Bluetooth low energy, both as a method of two-way communications with local users and to communicate payment information
Discusses how machine learning will be used in bank operations to improve customer service at reduced cost and as a means of predicting customer behavior
Reviews the evolution of the mobile OS for most consumer-facing applications, including ATMs
Describes how payment APIs and on-demand services will shift payment volumes in ways that will impact the payment value chain
Evaluates how tokenization use will expand to payment-enable existing bank apps and token enable and secure e-commerce and m-commerce
Identifies pilots likely to be deployed based on the blockchain and suggests several areas which are likely to be implemented first.
This report is 27 pages long and contains 7 exhibits.
Companies mentioned in this report include: Airbnb, Amazon, Apple, Braintree, Capital One, Chain.com, ChangeTip, Chase, Citi, Diebold, Google, IBM, LuxeValet, Lyft, Microsoft, PeerNova, Royal Bank of Scotland, Shyp, Sprig, Synack, Tango, TaskRabbit, Uber, Vera, Visa, and WePay.
Members of Mercator Advisory Group's Emerging Technologies Advisory Service have access to this report as well as the upcoming research for the year ahead, presentations, analyst access, and other membership benefits.
Please visit us online at http://www.mercatoradvisorygroup.com.
For more information and media inquiries, please call Mercator Advisory Group's main line: (781) 419-1700, send email to media(at)mercatoradvisorygroup(dot)com.
For free industry news, opinions, research, company information and more visit us at http://www.PaymentsJournal.com.
Follow us on Twitter @ http://twitter.com/MercatorAdvisor.
About Mercator Advisory Group
Mercator Advisory Group is the leading, independent research and advisory services firm exclusively focused on the payments and banking industries. We deliver pragmatic and timely research and advice designed to help our clients uncover the most lucrative opportunities to maximize revenue growth and contain costs. Our clients range from the world's largest payment issuers, acquirers, processors, merchants and associations to leading technology providers and investors. Mercator Advisory Group is also the publisher of the online payments and banking news and information portal PaymentsJournal.com.