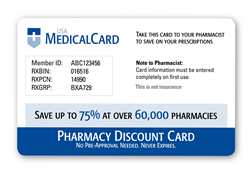 The 2016 CVS/Caremark list of covered prescription drugs will be shortened by almost three dozen medicines -- many of them routinely prescribed.
Washington, D.C. (PRWEB) December 29, 2015
Every year, the third party administrators of health care plans (known as Pharmacy Benefit Managers or PBMs) review their prescription policies and routinely delete drugs from the list of covered medicines. Many times, they don't notify members that their prescription has been dropped. It's not discovered until they go to get a refill after the new year starts.
To help avoid surprises, USA Medical Card recommends that consumers review the list of covered prescription drugs of two of the top PBMs here: http://ht.ly/W5SXU and http://ht.ly/WdWnS. Then, if they do find their medication has been dropped, they should ask their doctor if there is an alternative.
"If they want to continue taking a medicine that has been prescribed for them but no longer approved, they will have to pay for it out-of-pocket. Many choose to do this because changing drugs is not an effective choice for them, said USA Medical Card Co-Founder and President Jordan Sessler. "This is why we provide our free card as an option. Using it may help people stay on the course of medication that has proven to work for them. No medications are excluded from possible savings up to 75%, brand name or generic."
The pre-activated card is accepted at more than 62,000 pharmacies across the country—local, regional and national chains such as CVS, Costco, Target, Rite Aid, Walmart and Walgreens. Eligible Rx medications include Abilify, Cymbalta, Qsymia, other prescriptions no longer covered on 2016 insurance plans as well as thousands of other popular medications.
To get a card, go to http://www.USAMedicalCard.com or text USAMC to 95577. This short video explains the advantages of the card: http://www.USAMedicalCard.com/video.
About USA Medical Card
USA Medical Card was founded to provide prescription savings to the estimated over 100 million people in America with inadequate prescription coverage. The company reaches out to families, individuals and seniors who are most at risk, and whose health would be compromised without the savings the pharmacy discount card provides. USA Medical Card has been rated A+ by the Better Business Bureau.