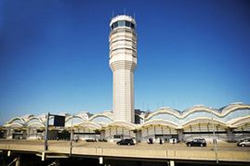 Our work securing transportation systems from the Virginia Railway Express to the Jamestown-Scotland Ferry has laid the groundwork for this win.
Manassas, VA (PRWEB) January 05, 2016
New Horizon Security Services, Inc., a privately owned security firm headquartered in Manassas, VA and specializing in armed and unarmed security services, has been selected by the Metropolitan Washington Airports Authority (MWAA) to provide professional security services at Ronald Reagan Washington International Airport.
Under the five-year contract, New Horizon Security will provide access control at vital entry points to deny unauthorized access to facilities, equipment and resources. Officers will also provide routine interior and external patrols to protect personnel and property from damage or harm.
"I'm honored that the MWAA has chosen New Horizon Security as their security partner," said John "J.J." Frazer, President of New Horizon Security, "And I am really proud of my team; Our work securing transportation systems from the Virginia Railway Express to the Jamestown-Scotland Ferry has laid the groundwork for this win."
Physical security is a vital component of a sound security strategy. That's especially true for transportation centers, and airports in particular. Passenger security breaches make headlines, but a 2015 Associated Press report found more than 200 instances where people made it through the perimeter of 31 of the Nation's busiest airports over a ten-year period.
New Horizon Security's professional security officers are part MWAA's multi-layer physical security strategy that includes CCTV surveillance, security officers, protective barriers, locks, access control protocols, and many other techniques designed to mitigate the risks highlighted in this report.
James Peterson, III, will serve as site supervisor and lead the team at Reagan National Airport for New Horizon Security. Peterson is a former Transportation Security Administration (TSA) Security Manager and Supervisory Security Officer at Dulles International Airport with over 10 years of experience. "I am pleased to welcome James to the team," added Frazer, "His experience will help us hit the ground running and take the physical security at Reagan National Airport to the next level."
Continuing its growth trajectory, this contract adds approximately 50 jobs to New Horizon Security. The company was recently named to Inc. Magazine's Top 5000, a prestigious list of the nation's fastest growing private firm, for a fifth consecutive year, and to the Washington Business Journal's Fast 50, a list of the fastest growing companies in the Washington-DC region, for the second year in a row.
About New Horizon Security
New Horizon Security specializes in providing high-quality armed and unarmed security officers throughout the Mid-Atlantic region in support of local and state government agencies, private businesses, commercial and retail properties, construction sites, residential communities, education facilities, and public service buildings. New Horizon Security also operates a certified training academy to train unarmed and armed security officers for the field. This training academy is open to the public as well. New Horizon Security is headquartered in Manassas, VA with satellite branches in Richmond, Harrisonburg, Newport News, Roanoke, and Danville, VA. The company also has an office in Raleigh, NC.
Click here to learn more about New Horizon Security.