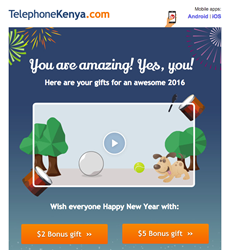 Easy to call and a quick connection. (Mike Ongwae on Trustpilot.com)
Atlanta, Georgia (PRWEB) December 25, 2015
TelephoneKenya.com offers a great bonus for international calls to landlines and mobiles in Kenya. This year, the bonus offered can be either $2 or $5 depending on the value spent, but both extra values never expire and can be used to call Kenya or any other country through 2016.
Customers can get the $2 bonus by purchasing a minimum of $20 Voice Credit on TelephoneKenya.com using AWE2NY or a minimum of $40 with AWE5NY for a $5 Bonus by December 31st, 2015: http://telephonekenya.com/buy/voice
The extra Voice Credit bonus purchased by December 31st, 2015 never expires and can be used as already mentioned on TelephoneKenya.com.
This promotion has more than a Bonus to it. It is called "You are amazing!" and was launched by TelephoneKenya.com this December as a video email to all website subscribers. The plot focuses on the courage and adaptability of an expat. The message of admiration goes hand in hand with TelephoneKenya.com's principle of supporting expats worldwide to keep in touch with their families and friends in Kenya at the lowest rates on the global market.
Kenyan expats all over the world can get up a special bonus this New Year's eve, when buying $20 or $40 Voice Credit for international calls. The bonus can be of up to 20 minutes extra that can be used to call any number in Kenya.
Someone with an account on TelephoneKenya.com benefits of all the free calling features, Thank You points for loyalty, all invoices and call records online in one's account, and 24/7 support in English, French and other international languages. The account on TelephoneKenya.com is life-time active and requires no maintenance costs at all, just as using the service requires no contract.
The current rate to call Kenya landlines is 9.9 ¢/minute, while calling a mobile in Kenya is 11.9 ¢/minute. There is one exception, though: calling an Airtel mobile. That has a different price: 22.9 ¢/minute. The current rates are available through the calling service called Voice Credit.
The lowest rate to call mobiles in Kenya, though, is 11 ¢/minute, which is available with the Monthly Plan called "Kenya 500." This plan is the only monthly subscription on TelephoneKenya.com.
There are 3 ways to make calls to Kenya using TelephoneKenya.com service and balance:
-Access Numbers help one make calls without Internet use.
-KeepCalling app is useful for smartphone users with 3G and 4G Internet access. The app costs nothing to install on iOS and Android devices; the app is quick and easy and uses one's phone Contacts to place a call to Kenya.
-Web Call is a desktop app available in one's account that requires no download. It is useful to make calls from a PC to any phone in Kenya using the Internet (whether an old generation mobile, a smartphone or a landline).
Kenyans who already use the service came up with several reasons why they stick to it, as review platforms show:
-Rates are low and really competitive on the global market
-The service guarantees 100% security; they are a "Certified & Verified."
-Customer Support is available 24/7 in several languages, including English, French and Spanish.
-Payment is possible with Paypal besides all major cards, and all currencies are accepted.
-Call records are available for the last 30 days and all invoices are stored in the online account.
-Regular promotions are announced on the Community Facebook page: https://www.facebook.com/telephonekenya/
Besides the Voice Credit calling and SMS service for personal use, TelephoneKenya.com offers Mobile Recharge. This is a service that facilitates international top ups of mobiles in Kenya. Many expats use it to send a gift back home to Kenya, to support someone there, or top up a friend's or a relative's mobile for him or her online. It takes less than 1 minute to top up a mobile in Kenya that belongs to one of the following networks in the country: Safaricom Kenya, Airtel Kenya, Yu Kenya, Orange Kenya.
TelephoneKenya.com dedicates itself to support ethnic communication for all Kenyans worldwide and wishes everyone a happy holiday and a Happy New Year!
About TelephoneKenya.com
TelephoneKenya.com is an interactive website designed by KeepCalling, a global telecommunications company registered in 2002 in the USA. Presently, KeepCalling provides its services to hundreds of thousands of consumers and businesses, with a focus on customer satisfaction. KeepCalling has been listed by Inc 5000 as one of the fastest growing companies in the USA for 5 consecutive years. In 2015 the company registered a revenue increase of over 200% from 2011 to 2014.