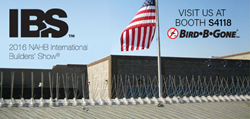 Builders can take advantage of Bird B Gone's more than 90 years of combined experience in the bird control industry
Irvine, CA (PRWEB) January 06, 2016
Showcasing its full lineup of products, services and worldwide installer network, Bird B Gone will be at the 2016 International Builders Show (IBS) in Las Vegas. The bird control company will remind builders that its growing line of products are easily specified and installed.
Proven Performers
In addition to its electric flat track systems and durable bird netting, Bird B Gone will show off its world proven bird spikes. Among the most effective pest bird deterrents ever developed, the anti-perching, anti-roosting bird control devices won't allow bird pests—especially larger birds, like pigeons, crows and gulls—to land on or near them.
Available in two-foot sections, with up to 40 spikes per foot, Stainless Steel Bird Spikes come in 1-, 3-, 5- and 8-inch splay widths to provide increasingly wider areas of protection—up to 10 inches wide. Made in the USA, these high quality bird spikes feature a patented "bend-and-crush" design, so the spikes remain firmly embedded in an unbreakable UV-protected polycarbonate base. This flexible base bends a full 360 degrees, so it can easily "follow" a variety of curved mounting surfaces. Bird B Gone Stainless Steel Bird Spikes come with a 10-year guarantee.
In-Depth Training
Bird B Gone will provide visitors with full information on its free all-day training course offered by Bird-B-Gone University. Here, graduates receive a certificate of completion and learn how to effectively select and install the company's comprehensive bird control products. Free marketing and training materials are also provided to students who attend the training sessions.
Comprehensive Service
Builders can take advantage of Bird B Gone's more than 90 years of combined experience in the bird control industry. Bird control experts will be available at the show to provide information and guidance in the use of the company's many bird control products. The goal is to ensure that builders make the best decisions in specifying and installing the right products to fit each job.
Guaranteed Quality
Bird B Gone manufactures products in the United States to ensure they meet the highest standards of quality in the industry. All products go through an extensive quality control process before they leave Bird B Gone's warehouse, and each product is hand inspected and "signed off" as its packaged. Bird B Gone products are humane, effective and carry industry-leading guarantees. This is why Bird B Gone products are the most specified by architects, engineers and government agencies.
Rapid, Expedited Shipping Options
Because it manufactures its own products, Bird B Gone offers its customers exceptional flexibility in convenient and expedited shipping options. This includes same-day shipping, even on custom bird control netting.
Bird B Gone will be at IBS Booth S4118.
Bird B Gone is the world's largest manufacturer and distributor of bird control products, providing effective and humane solutions to a bird-free environment. The company provides advice; training and installation services for those who need help with these and other bird control measures. For the complete line of products from Bird B Gone, call 1-800-392-6915; fax: 949-472-3116 or visit our website at http://www.birdbgone.com, e-mail: nobirds(at)birdbgone(dot)com.