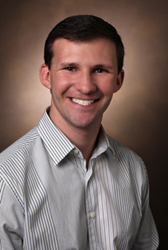 When my tremor would get in the way of what I was doing, I simply saw it as a challenge to find a new way to do it.
Lenexa, Kan. (PRWEB) January 13, 2016
The International Essential Tremor Foundation (IETF) is pleased to award a $500 scholarship to student Bradley Shields from Little Rock, Ark., for the 2016-2017 academic year. Shields is one of four students from across the nation to receive a scholarship award from the IETF.
Shields thought his dream of becoming a hands-on physician scientist was over when he was diagnosed with essential tremor (ET). His doctor reassured him how many people who have ET deal with it, and how they can actually thrive. Deeply encouraged by his doctor's message, Shields attended college at Harding University where he occasionally had to explain why an outgoing person like himself had shaky hands like someone who was nervous or shy. "I realized my tremor is just something other people noticed, not something that stopped me from doing what I wished," Shields said. "When my tremor would get in the way of what I was doing, I simply saw it as a challenge to find a new way to do it."
Shields' ET had never been more challenging until he entered medical school at the University of Arkansas for Medical Sciences in the fall of 2013. "Medical school is filled with caffeine, limited sleep, and stress, all of which make essential tremor worse," he said. Despite both the social and physical challenges, like carefully measuring volumes as small as one microliter, Shields realizes his most valuable contribution is thinking crucially and creatively about a complete problem. Since adopting this attitude, he worries much less.
"My advice to others with essential tremor is to reach out to others with tremor. Encouraging someone else has a counterintuitive way of bouncing back and helping you," Shields said.
Essential tremor is a neurological condition that affects more than 10 million Americans. ET causes rhythmic shaking of the hands, head, and voice. ET is often misdiagnosed as Parkinson's disease, although eight times more common. ET is characterized by action tremor, making everyday tasks such as eating, drinking, and writing difficult if not impossible. There is no cure for this life-altering condition.
IETF scholarships are awarded to qualified students of all ages who have been diagnosed with ET, to lessen the burden of higher education. The scholarship can be used for supplies, books or tuition at licensed, accredited institutions of higher education (including trade schools) and are paid directly to the educational institution. For more information about the IETF scholarship program, please visit http://www.essentialtremor.org/about-the-ietf/scholarships.
About The International Essential Tremor Foundation:
Headquartered in Lenexa, KS, and founded in 1988, the International Essential Tremor Foundation is the leading organization in the world dedicated to those affected by essential tremor. The mission of the IETF is to fund research that will find the cause of essential tremor and lead to better treatments and a cure, increase awareness about ET, and provide educational materials, tools and support to healthcare providers, the public, and those directly affected by ET.
The IETF has distributed nearly $1 million in research grants, to fund numerous promising studies, in the search for the cause of ET. The Foundation has hosted numerous community awareness events across the U.S. to provide those affected with the basic knowledge necessary to become their own advocate when seeking treatment. And, the IETF also provides assistance to a vast network of support groups around the world. To learn more about essential tremor and the IETF mission, visit the IETF website at http://www.essentialtremor.org